How to Organize Your Day More Effectively!
We all have big ambitions and dreams but a little neglect in our efforts makes us lose by a marginal difference and that is when depression comes into our life. Sometimes we fall out of time or poor managing skills due to which we lag behind. All of us want to increase our efficiency and productivity. With tight and hectic schedule, working smartly is new motto. You just don't have to rush in to complete your day targets. Read on to know more about managing your day more effectively.
MAKE A TO-DO LIST
Always try making a list of things that have to be done for the day. Before going to sleep, just jot down every work that has to be completed, prioritize your task. Categorise your goals under the priority and non-priority list and give them a rough timing so that you have an idea as to by what time should the work be completed.
SIMPLE TASK OR THE TOUGHER TASK?
Many of us have the habit of completing the easier tasks first and then move on to the difficult tasks but in this way more of tension builds up in your mind which hampers your performance even in the simple tasks of the day. So the best thing should be to handle the tough tasks early in the morning so that the day goes in a more burden free manner.
KEEP UPDATING YOUR LIST
Don't forget to upgrade your list. Often new work creeps into our daily schedule, so never forget to add on the job in your to-do list. And keep crossing out the assignments that have already been finished. In this way you will know where you stand and how much more or less efforts have to be applied.
TECHNOLOGY AT ITS BEST
With highly advanced technology, we have so many gadgets and apps in our phones that help us keep updated to things faster and at a click. You always have the option to sync your calendar with your email and cell phone, saves time and energy. Sometimes we have so many small tools in front of our eyes and we forget to use them. Calendar is one of them. You always have a calendar at your desk wherein you can mark important meetings and circle out important days and events. You just have to be a little more alert.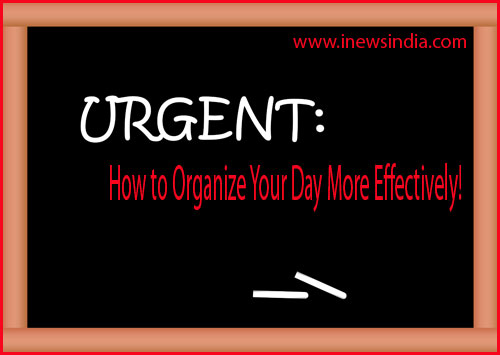 DISTRACTIONS, EH?
Well yes, accept it or not the main reason behind a task not being achieved is distraction. Spending excessive time on Facebook, Twitter and other social networking sites aimlessly will only result in loss of time and failure in achievement of goals. Keep your work time and leisure time separate. Office chit chats and useless telephonic conversation during office hours is not at all required. You just don't have to join in your colleagues for that small brunch out in the lunch if you have unfinished assignments. Always remember it will always be you who is going to suffer not others. You can miss the office gossips and late night parties for a better performance at your work place. Only work and no play does make you a dull boy but all play no work makes you lose your job. So think before you leap.
OVERCOME YOUR LAZINESS
'I'll do it later' attitude is one of the most common thoughts of a man. Never ever let this thought come in your mind even once for if it creeps in once, it'll never lead you. You shall keep postponing the task and it'll just keep piling up with your work until a time will arrive when you'll try making up for the time lost. A lot more of fear and anxiety will erupt into our mind leading to lesser yield. So always keep in mind that time and tide waits for none.
EVACUATE SOME TIME
Whenever you make your list. Always try evacuating some time in your schedule. This is because you never know when some new chore might come up and you'll have to jump off to it. In most of the cases, a child's school project and fancy dress competition dumps into your hectic schedule and you know you will have to do it, you actually have no option. So always make sure that before you run away from office to get your kid's work done, you are done with your own work.
SLEEP ON TIME
The ideal time to have a peaceful sleep is 10 p.m to 4 a.m. Though all of us have different body clocks in which we have our comfortable sleep. Sleeping on time helps regularize and follow your schedule. Early to bed and early to rise is actually the mantra towards a more productive day.
STAY HEALTHY
Eating properly at the proper time helps maintain a balance in your work schedule. It's better to avoid fast food during office hours and advicable to have good amount of breakfast so that you don't overeat at lunch. Very heavy lunch often makes us lousy in our work after 2 p.m so it is always good to have just the amount of food that will suffice your hunger, not necessarily your taste buds. Over eating can wait for other time of the day. Meditation will help keep your mind at ease and proper exercise will keep you fit. Therefore, it is always advisable to have efficient working in your kitty, staying fit is a prerequisite.
FOLLOW YOUR DAILY ROUTINE
Last but not the least, always stick to your regular plans of the day. This is the most important and the toughest work for many but if you have to achieve goals, you will have to follow your daily planner. Skipping even the jog of the day can hamper your whole schedule.
Following these simple and easy rules can help make your day become more fruitful and will help yield out better results. Keep watching out this space for more. Till then have a happy and productive day.
Take care
If you Like Us then Share Us As Well

You May Also Like to Check These Posts:
Tags:
Advanced Technology
,
Apps
,
Apps in Phones
,
Attitude
,
calendar
,
Cell Phone
,
Depression
,
Efficiency
,
Email
,
Exercise
,
Facebook
,
fast Food
,
gadgets
,
Healthy
,
How to Organize Day Effectively
,
How to Organize Your Day
,
Late Night Parties
,
Life
,
Managing Skills
,
Meditation
,
Office Gossips
,
Organize Day Effectively
,
Phones
,
Productivity
,
Save Energy
,
Self Improvement
,
Social networking
,
Social Networking sites
,
Staying Fit
,
Technology
,
To Do List
,
Twitter
,
Work place
,
Work Schedule
About The Author
I'm a Mechanical engineering student by profession but a writer at heart. I'm passionate about penning down my thoughts. For me my pen is my sword. I'm a deep thinker who is quite affected by the education scenario of India, environmental problems that we are facing today. I love to see happiness around me so I'll always be found motivating people or making them smile. I am an avid reader. Charles Dickens is my favourite author till date and I still love ready Little Women and Mills and Boons. My works: I am into blogging Dreams V/s Reality is my blog...Feel like checking it out...Here's the link http://harshitasrivastava.blogspot.com/ I'm also writing a book though it is in the initial stage. Let's see how it comes out. I'm surely going to update you with this part also. Hope you enjoy my write ups...