Beauty Tips for this Monsoon!
/
The best season of the year has finally arrived. After the entire hullabaloo over rains, God has finally showered his blessings. Don't all of us love dancing in the rain? But along with the good things, bad things also venture into our lives. Getting wet may be an enjoyable moment but it does a lot of harm to your hair and skin. So if you want your hair and skin to be happy and healthy, read on the following tips you might need for this season.
HAIR CARE
The biggest problem that one has to deal with during monsoons is hair fall. People having short hair face a little more problem for it is more visible on them rather than for those who have longer hair. So pledge to grow your hair before monsoons. Don't go for straightening or curls or any kind of hair styling for your hair more prone to damage during rainy season. It would be good if you don't go for hair colouring either. Try to leave them as they are for some time.
Avoid hair sprays, hair gels, serums and hair creams altogether. It's better to use good quality mild herbal shampoos during this time. More of chemical usage may cause dandruff and more of hair fall. You'll be dumped with a plethora of hair problems so better to avoid all this.
Do not leave your hair wet. Dry them with a dry towel. Avoid using hair blowers for this season. After being soaked in rain, do try to wash your hair or at least dry them up. Apply oil at regular intervals, neem oil would be a good option as it helps remove itching which many of us face during this season. Shampoo your hair from time to time i.e. you should shampoo your hair at an interval of 2-3 days at least. Always condition your hair after you've shampooed them.
Use home remedies for hair like applying curd or hot oil (don't go for thick oils this season) with curry leaves. Don't leave your hair open and please do not comb your wet hair as they break all the more. Use a wide toothed comb for detangling your hair. Also, don't tie your wet hair as they are more prone to dandruff.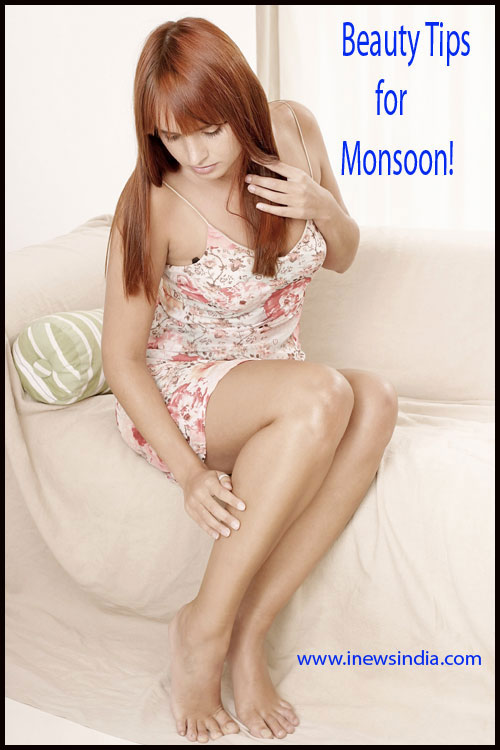 SKIN CARE
Your skin suffers the most while the rains are on. Drink loads of water to keep your skin fresh and healthy. Remember the ad saying: Cleansing, Toning, Moisturizing. Yes, even you have to do this.
Cleanse your skin with good face wash 3-4 times a day. Dry skin people can go for a mild cleanser while oily skin beauties should go for a deep pore cleanser.
Toning helps remove dirt and extra oils from your skin. It also helps stay away from black heads which is mostly high in the rains. Rose water works as a good toner though you may go for many good toner available by different brands. Aroma Magic Toner is a good option for me but it depends whether it will suit you or not.
Moisturize your skin regularly. This is something most of us miss out on especially people like me who have an oily skin but your skin needs moisturizing to remain healthy. People having oily skin get more oily skin and those having dry skin get drier. Always use a non sticky moisturizer for yourself.
Always use a sunscreen. If you remain in sun for more than 3-4 hours, re-apply but never forget to use a sunscreen.
Don't forget to scrub. You can use homemade scrub of sugar or there are many range of walnut scrubs available in the market that can do you good. If you want to make a home scrub, you may take a mixture of sugar, crushed strawberries and almond oil. Scrub gently and wash off.
Drink lots of juices and have salads to keep your skin glowing. An extra tip for people with dry skin, apply rose water, honey and glycerine at night. Others can apply aloe vera gel.
FEET CARE
Our skin is most prone to fungal infection during monsoons. So avoid staying in wet paces and wet clothes. Our feet are the most affected area. Dry your feet as soon as possible and avoid wearing shoes or boots for if they get wet, you tend to remain in wet places for a longer time. Use anti fungal sprays and powder between your toe nails to avoid the problem of infection. Get a pedicure done every 20 days. Ensure that your beautician uses sterilized instruments. However it's costly to get pedicure done at regular intervals and for this you can go in for home pedicure.
Take a tub filled with warm water. Soak your feet in them for some time and then add salt and turmeric powder for salt helps clean your feet and turmeric powder works as an antiseptic. You can also add rose petals for a better fragrance. After this, cleanse your feet with a cleansing milk and scrub them with some good scrub and you can also use lemon. Wash your feet off with water and a shampoo. Cut your toe nails and remove the dirt with an orange stick. And you are finally done with the pedicure.
Moisturize your feet every 4-5 hours and don't forget to apply sunscreen on your feet before you step out in the sun. Keep your nails clean and do not grow them too long during monsoons.
OTHER STUFF
Use water proof make up if you do not want to become a clown in front of everyone. Even if you are a college gal and just go by with a kajal and eyeliner, go for a water proof product. It helps prevent raccoon eyes which many of us have while rains.
Avoid wearing whites as they get easily dirty during this time. Wear some cottony stuff that makes you feel cool in the humid season.
And now you are ready to enjoy in the splash of rains. Have a super cool monsoon.
Take Care
If you Like Us then Share Us As Well

You May Also Like to Check These Posts: