How to choose a Home Interior designer?
A home interior designer is a person who makes your home look more beautiful and appealing. It is the designer who adds life to your house, converts it from a house to a home. And now that you are finally done with buying yourself a new place, it' time for an interior decorator. Or if you think your place has started looking boring and obsolete, don't wait; you should hunt out for an interior designer.
The first step towards selecting a home interior designer for your house is socialising. Make you circle know that you are on the look out of a good interior decorator. Ask your friends, relatives, colleagues about it. Contact a local designer agency that provides designers. Social networking is a great medium of business today, try professional social networking sites like LinkedIn and skillpages. Designers are close associates of building contractors as they help them get clients, you may also try talking out this issue with your building contractor. He might suggest you one.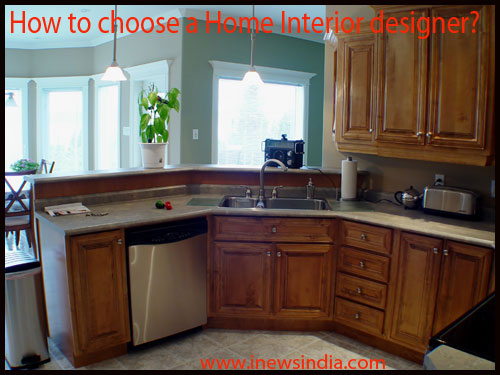 Have a short meeting with the designers you have crossed upon. Ask them for their portfolio and their previous work. Don't be shy to contact his/her's previous clients; they will be able to give you a proper feedback about the designer's work. Also ask about the other services they provide and the fee charges. Enquire about the interior designer's time and availability too. Don't limit your meeting to one or two designers discuss with as many designers you can and then finally go for the one who you think will be the most suitable for your home interior decoration.
Make the designer understand your needs and your tastes. It's your home and you wouldn't like burning your pockets for a decor which doesn't match your taste. Have a clear communication with the designer about the type of decor you want. You can analyse whether a designer will be able to bring out your kind of work by going though his portfolio. If you think that this is leading you nowhere drop the designer and go for someone else.
Have a frank talk about the designer's charges beforehand so that you do not have to face an unhealthy and unprepared situation. Negotiating for rates should be best done before the work begins. Ask him out till when the work will be complete and on what basis is he charging. For example some take an hourly fee; some ask for monthly payments, some include the cost of material in their fee itself while some don't. Look into this matter carefully so that you do not burn a hole in your pocket later on. You could even sign a contract on this.
Convey the home interior designer to inform you about the progress on a regular basis. This will help you keep an eye on what is going on and whether the designer is doing his/her work properly or not. All these points if kept in mind will eventually solve the headache of selecting the right interior designer for your home.
If you Like Us then Share Us As Well

About The Author
I'm a Mechanical engineering student by profession but a writer at heart. I'm passionate about penning down my thoughts. For me my pen is my sword. I'm a deep thinker who is quite affected by the education scenario of India, environmental problems that we are facing today. I love to see happiness around me so I'll always be found motivating people or making them smile. I am an avid reader. Charles Dickens is my favourite author till date and I still love ready Little Women and Mills and Boons. My works: I am into blogging Dreams V/s Reality is my blog...Feel like checking it out...Here's the link http://harshitasrivastava.blogspot.com/ I'm also writing a book though it is in the initial stage. Let's see how it comes out. I'm surely going to update you with this part also. Hope you enjoy my write ups...