Questions to Ask before Deciding for Break-Up!
In today's scenario break ups are very common. People don't even think twice before breaking up. It's like getting a partner has become quite easy now but do you ever pondered over the consequences of the break up? Getting into a relationship is easy but holding it on is not that simple. Similarly breaking up may be trouble free but facing the consequences could be painful. So think before you leap. Ask yourself the following questions before you decide to break up.
Question # 1
Are you breaking up because of disloyalty?
This is the first question that should be answered by you. Are you morally correct in the first place? Are you breaking up because you have lost interest in your partner or you are having some other love interest?
Question # 2
Do you think your partner is cheating you?
This could be an integral reason for your break up as your partner can not double cross you. This is surely not done. If you think that your partner is having an affair with someone else and is cheating on you then break up is the only solution. May be you could out rightly ask out to him/her about it.
Question # 3
Is your partner dishonest to you in some cases?
There is a possibility that sometimes your partner may lie to you and that might create suspicions in your mind. You should possibly sort it out before planning to break up from the relation.
Question # 4
Will I be able to survive without him/her?
This is one question that you need to not only answer yourself but also prepare yourself for it. Being in a relationship puts you in a habit of your partner's presence, his/her caring and affectionate ways. So basically you will have to look into the time when he/she wouldn't be there in the evening to cuddle you or smile at you.
Question # 5
Can things be sorted out?
Yes, break up is not the only solution. Sometimes things can also be sorted out. Talk, discuss. Arguments will only lead to quarrels and fights. Discussions will lead to settlements. Sort out things and lead on with your lives peacefully.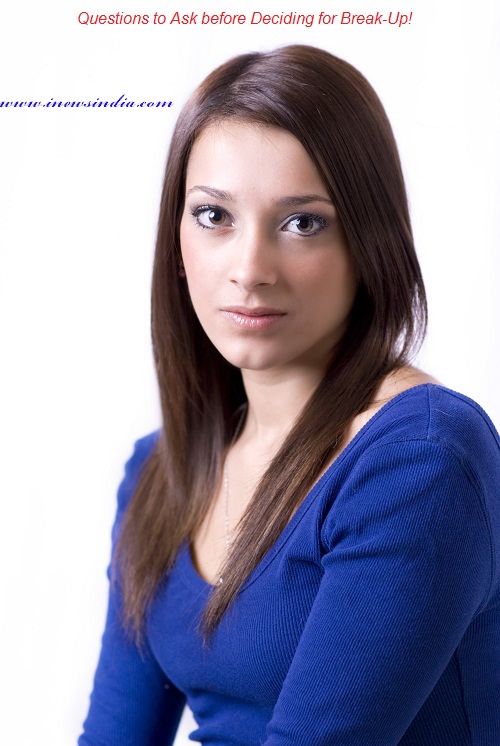 Question # 6
Are you breaking up due to physical problems?
This is one problem which few couples face. Do you have trouble in your physical relation; consult a doctor or a psychologist. They can help you out.
Question # 7
Do you have career related issues?
Generally it happens that when one of the partners starts earning more or has a better designation, the other one starts having inferiority complex. There are ego issues which lead onto fights and arguments, lots of judgemental matters which result in break up. Please don't let it happen it your relation. Success and failure are a part of every human and accept in a healthy manner. Don't let it ruin your lovely relation.
Question # 8
Will you be financially stable?
Would you find yourself financially stable enough after you break up with you partner? Would you be able to provide bread and butter to your family?
Think about these questions before you ask your partner to walk out of the relationship.
Question # 9
Do you think you are not getting the care you deserve?
Sometimes it happens that you feel that your partner is not giving you adequate time or care and affection you deserve and then you decide that you guys should break up. You feel that he/she doesn't love you but may be that isn't true because it could be possible that he/she might be going through some bad phase of life which she/he hasn't been able to share with till now.
Question # 10
Is your ego coming in your relationship?
The very first rule in any relationship is that there is no place for ego. So please ask ego to stay away from a love relation as well. If you have had a fight, say sorry. You wouldn't die nor would your pride decrease. You guys love each other, right and love doesn't see pride my friend.
Never let pride and ego come into your love. For a successful relationship, ego, pride, arrogance, all will have to run away to the garbage bin.
Question # 11
Are you breaking up just to bring him/her closer to you?
Funny as it may seem but all the Bolly and Hollywood Movies have the tried and tested formula. Leave the boy and catch a new one, make him jealous and he will come running at your feet. Well that happens in movies. Whether it happens in reality or not, I don't know. Didn't happen with me
Well, that's just a personal experience, you can try it.
Anyway on a serious note I would suggest sort out things first, discuss them out and then also if he doesn't listen to you the guy isn't worth your goodness. But if you still love he and you feel that one day he will realise this try the movie formula, might work for you
Till then Bubye, take care
Keep Smiling
If you Like Us then Share Us As Well

You May Also Like to Check These Posts:
Tags:
Affair
,
Affair with Someone Else
,
Affection
,
Arguments
,
Arrogance
,
Break Up
,
Breaking Up
,
Breakup
,
Care
,
Career
,
Career Related Issues
,
Cheating
,
Consult a Doctor
,
Consult a Psychologist
,
Decide to Break Up
,
Discuss
,
Dishonest
,
Disloyalty
,
Ego Issues
,
Failure
,
Fights
,
Financially Stable
,
Inferiority Complex
,
Love
,
Love Interest
,
Lovely Relation
,
Physical Problems
,
Physical Relation
,
Quarrels
,
Questions to Ask before Break-Up
,
Questions to Ask before Deciding for Break-Up
,
Relationship
,
Settlements
,
success
,
Successful Relationship
,
Talk
About The Author
I'm a Mechanical engineering student by profession but a writer at heart. I'm passionate about penning down my thoughts. For me my pen is my sword. I'm a deep thinker who is quite affected by the education scenario of India, environmental problems that we are facing today. I love to see happiness around me so I'll always be found motivating people or making them smile. I am an avid reader. Charles Dickens is my favourite author till date and I still love ready Little Women and Mills and Boons. My works: I am into blogging Dreams V/s Reality is my blog...Feel like checking it out...Here's the link http://harshitasrivastava.blogspot.com/ I'm also writing a book though it is in the initial stage. Let's see how it comes out. I'm surely going to update you with this part also. Hope you enjoy my write ups...