Top 10 Valentine Gifts Idea for Him!
"AND ALL I WANT IS TO SEE YOU HAPPY WITH ME FOREVER AND EVER…YOUR SMILE LIGHTS UP MY DAY…YOUR PRESENCE MAKES ME FEEL ON TOP OF THE WORLD…YES I'M THE MOST LUCKY GIRL ON THIS EARTH"
In the last article guys got info on what to buy for their girl, those who missed the same can read out here: Top 10 Valentine Gifts Idea for Her. Now it's time for girls. So girls if you still haven't thought on to what you are going to gift the MAN of your dreams, you are at the right place. I know how confusing it gets when you have to select that best gift for your Valentine. No need to panic anymore. We are here to help you out.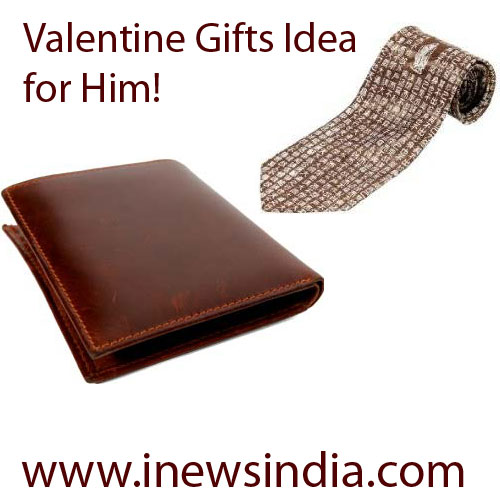 Giving you an insight to the Top ten Valentine gifts for your GUY!!
NECK TIE: This is one of the most classic gifts you could gift your GUY. A neck tie would be his pride at office and special conferences. A man is often judged by his shoes and the tie he is wearing at his office. It could also turn into a lucky tie if it has been gifted by you. Buy him a beautiful tie which you thing suits him the best and I assure you he would be totally in love with the tie and you of course. And forget to tie it for him the first day he wears it for office. And yes don't forget to put on a special note of love with the neck tie. Get it beautifully packed for the MAN you LOVE the most.
COFFEE MUG: Mugs are a great means of showcasing your love to your man. Get him a personalised mug with your pic together and a small caption to it. He will totally love it. Whether he is alone or with you he will not be able to stop himself from loving you all the more. He will show it with pride that this beautiful mug was gifted by his love. Every time he has a cup of hot chocolate he will just think about you and how much you love him.
OFFICE ACCESSORIES FOR HIS TABLE: You could gift him a paper weight or a pencil holder. Get it personally made as this will make it all the more special for him. Add lovely messages to the paper weight or to the pencil holder. Nothing can replace this special token of love. You will be in his mind constantly even when he is at office. This way you will always be by his side even after being away from him.
A CUTE PHOTOFRAME OF BOTH OF YOU: Get a huge photo frame to adorn the wall of your bedroom or a small one to keep at his table side. Get a picture framed that you feel is the best until now. Won't it be a good option to gift it to him so that she can feel how lucky he is to have you and how good you both look together when he is working at office? An amazing gift for this Valentine Day.
COLOGNE: Valentine's Day is the best day to gift him something that he is never going to buy for himself even though he requires it the most. Every girl wants to be in her guy's mind 24*7 and what better gift would it be than cologne which he can put on himself all day long. He won't forget you even for a second when he applies on this. There are several ranges of hot and sexy men's cologne that you could choose from. If you don't know his cologne then we recommend Acqua De Gio for Him by Armani, Valentino V by Valentino for Men or Davidoff.
DIARY: Something that he needs in his everyday life. Diary is where he pens down his thoughts, his daily schedule and his meeting details. Wouldn't he love writing on it if it has been gifted by you. He will love to keep it by his side always. And before gifting write down a special message describing your love and how much he means to you. Now it is ready to be wrapped with the most beautiful packing.
GADGETS: Most men are crazy for gizmo and gadgets. If your man is one of them you can gift him with the favourite game disk he loves, cell phone he has been eyeing for since long. Men love to have the latest of technology so he will be delighted to get it from his Lady Love. If he loves music, go for iPod and you could even stuff in his favourite songs. The songs you two share as a couple and the songs you would like to dedicate him. It will be a pleasure to your eyes when you two listen to music together lying beside each other.
WATCHES: Believe it or not men love to have a collection of watches, one for formal wear, one for Sunday wear, one for special occasions. Which one are you going to give him this Valentine? Pick out the best from the series of ranges available in the market. You are going to be in his mind all day. Whenever he catches up on time, he will realise it that are the most precious gift for him this TIME. Watches are the ultimate gift for any occasion.
WALLET: In India it is said that Girls bring Wealth and by gifting him a wallet you are bringing wealth and prosperity in his life. You love each other a lot and this wallet given by his Lady Love (and Luck) will bringing loads of success and prosperity in life. What better gift could he have asked for? Choose from a range of brands available though I find Wrangler and Tommy Hilfiger the best. He will be more than overjoyed to see this. And to make it more romantic, do put your pic in his wallet before wrapping it up.
ROMANTIC DINNER: Hasn't it been long since you guys had a special dinner giving each other you time. Now is the time when work can take a back seat and you can gift him a romantic candle light dinner where the only people present would be you two. Get the arrangements done well and decorate it just the way he likes it to be. Look into his warm yes when you cut the cake and have his favourite music played in the background and enjoy a lovely ball dance with each other.
Now that the best gifts have been listed remember a few points before gifting:
Adding a special note to every gift makes it all the more special. So don't worry if you aren't a poet. Your simple words mean a lot to him
Wrapping of the gift matters so take heed to getting it packed beautifully. It makes your gift more lovely and presentable
So what are you waiting for, head to another window shopping and shop till you drop for the best Man in this whole world…
Good luck and enjoy your Valentine's Day
If you Like Us then Share Us As Well

You May Also Like to Check These Posts:
Tags:
Armani
,
Cell Phone
,
Coffee Mug
,
Collection of Watches
,
Davidoff
,
Diary
,
Favorite Songs
,
gadgets
,
Game Disk
,
Gift for Valentine Day. Cologn
,
Gift Idea
,
Gift Idea for Her
,
Gift Idea for Him
,
Gifts
,
gizmo
,
Hot Chocolate
,
ipod
,
Lady Love
,
Lady Luck
,
Latest of Technology
,
Love
,
Lovely Gift
,
Lovely Messages
,
Market
,
Music
,
Neck Tie
,
Note of Love
,
Office
,
Office Accessories
,
Paper Weight
,
Pencil Holder
,
Photoframe
,
Poet
,
Precious Gift
,
Prosperity
,
Romantic Dinner
,
Sexy Cologn
,
Technology
,
Token of Loce
,
Tommy Hilfiger
,
Valentine
,
Valentine Gift Idea
,
Valentine Gift Idea for Her
,
Valentine Gift Ideas
,
Valentine Gift Ideas for Him
,
Valentino
,
Valentino for Men
,
Watches
,
wealth
,
Wrangler
About The Author
I'm a Mechanical engineering student by profession but a writer at heart. I'm passionate about penning down my thoughts. For me my pen is my sword. I'm a deep thinker who is quite affected by the education scenario of India, environmental problems that we are facing today. I love to see happiness around me so I'll always be found motivating people or making them smile. I am an avid reader. Charles Dickens is my favourite author till date and I still love ready Little Women and Mills and Boons. My works: I am into blogging Dreams V/s Reality is my blog...Feel like checking it out...Here's the link http://harshitasrivastava.blogspot.com/ I'm also writing a book though it is in the initial stage. Let's see how it comes out. I'm surely going to update you with this part also. Hope you enjoy my write ups...