How To Get Success In Whatever You Do In Life?
/
Success… A word that is everybody's destination. Success literally means an achievement of something you planned to do. Whichever field you belong to success is your target. Now before we get on to discuss how to get success I want you to close your eyes and think that what success means to you and what your goal is actually.
"The tragedy of life doesn't lie in reaching your goal. The tragedy lies in having no goal to reach."
This is what Benjamin Mays had to say for having a goal. And we all know how his goal made him bring radical changes in the US.
"Success means having the courage, the determination and the will to become the person you believe you were meant to be."
-George Sheehan
So finally when we all know what goal is and how it is connected with success, let us start upon how to get it in life. For achieving success there are no primary or secondary aspects or the only set of viewpoints that can help you reach your aim. But there are a few things that should be kept in mind while working so that you may reach the peak of your dreams. A will to do the work assigned to you is a key factor that will definitely help you attain the best. Hard work and perseverance are the tools required apart from sincerity and positive thinking. There are a lot of key points if kept in mind will help you in every sphere of life. The seeds of hard work will reap the fruits of success.
Most people get disheartened when they taste failure but I believe that the bitterness of failure is the beginning of tasting success. To savour the sweetness of success never lose hope.Believe in yourself and believe in your aim. Nothing can stop you from receiving the rewards of honour. And never fear from taking responsibilities because these will not only enhance your leadership skills but will also help you gain self confidence.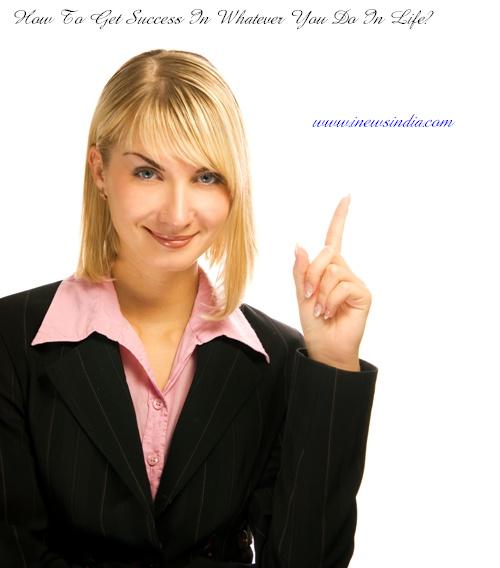 So finally we may list down a few points that will surely help you in achieving success.
Determination and Desire
A weak strength of mind may easily get towards distraction but a strong mind will never do so.  A strong will and desire for the task you have to work upon will always lead to victory.
Perseverance and Sincerity
Hard work is a prerequisite for any chore. Don't be afraid to put in your best for even the minutest job. He who works hard conquers all. Sincerity is a virtue that is honest and unadulterated. If you are sincere towards your work then you will never shy away from working hard. Remaining persistent to your work will never cause dejection.
"Insincerity is always weakness; insincerity even in error is strength"
Proper Planning
Before you start working, plan out your work. Prepare an outline of what work has to be assigned to whom and how it is to be handled. Visualise your dream by taking small but correct steps. Think about the consequences of not being able to complete the work so that you do not have to regret it later on. Design your strategy now.
Time Management
We are after all the slaves of time so it would be better if we start taking it the better way. Don't run after time, let time run after you. Make prior deadline i.e. before the actual deadline. This will not only help you from having a relaxed and composed mind on the last day but will also help you in reviewing your work so that errors may be rectified well before in time. Value time. Try to absorb maximum from an advantageous position. Work smarter not only harder.
Self Control
This is what most of us miss on. While you've work on you may have to miss all the fun your friends are having. Wedding of your relative or a close friend was something you had been waiting for since long but quite unexpectedly things took the wrong turn and you were dumped with an assignment of yours.
Unfortunately you'll have to miss it because weddings will keep coming, not the opportunities. You will have to sacrifice the pleasure moments, you'll have to miss on the Saturday night party, and you will have to work on Sunday losing out on the gossips and shopping but sweetheart it's worth it. Never mind for all because when you achieve success we are going to party hard. Zero distraction has to be within you as well as around you.
Leadership Skills
Yes this is a thing you need to have even if you are a homemaker and your aim is to achieve a spic and span clear house with the help of your maid. Start taking responsibilities on your shoulder. Take a step forward towards your goal by bringing out the leader in you. Have a strong hold on your subordinates. Do not be autocratic but don't be too friendly that they start taking you leniently. Build up a sense of humour to kill the tense moments. Once you are a leader you are required to be just and fair so give the right man the right work. Creativity is a skill which you should have as well as you should be open to listening new and different ideas. This will surely help you reach the apex in a better way.
Self Confidence and Positive Thinking
Have confidence in yourself, neither too much nor too less. Overcome your fears. If possible go into yoga or meditation, this will help you feel better and work better. Think positive. Never lose hope. Just because you've failed once doesn't mean you'll fail again. Forget the past and work on your present for your successful future. As I said earlier failure is not an end, it is just the beginning of success.
Support
Lastly nothing is possible if you don't have the support of your near and dear ones. After all you are doing all this for your family's well being. While the work is on you might be missing on the family get together, spending time with your baby, skipping on the romantic dinners with your spouse. But if their support and belief in you is strong then nothing can stop you from achieving victory. Their encouragement and smile is the most important thing in your life, isn't it?
I hope this is going to help out a few people on getting success in their field. Success isn't a big word but achieving it something BIG. Maintain your calm even when things aren't going straight. Laughter is the best medicine so never shy away from enjoying even while working because this will distress your mind. Work when you feel you can give your best, early morning, night or afternoon. Maintain high level of enthusiasm for work because skills and ability is possessed by each one of us but not everyone succeeds and this is because we lose on to a few points in life which I'm sure you'll never do in future
All the best for your goal!!!
If you Like Us then Share Us As Well

You May Also Like to Check These Posts: