Berger XP IndiBlogger Meet Experience!
/
What are the things which you want when you do painting at your home? Of course a cleaner and dust free experience. Read on this blog post of mine on Berger XP IndiBlogger Meet experience.
It was around 2 years back when I last attended any IndiBlogger meet. In between there were a few IndiBlogger meets at Delhi but due to my professional commitment, I didn't get a chance to attend them. This time too when IndiBlogger announced this meet in Delhi, the first reaction of mine was that, I probably won't get the invite for this.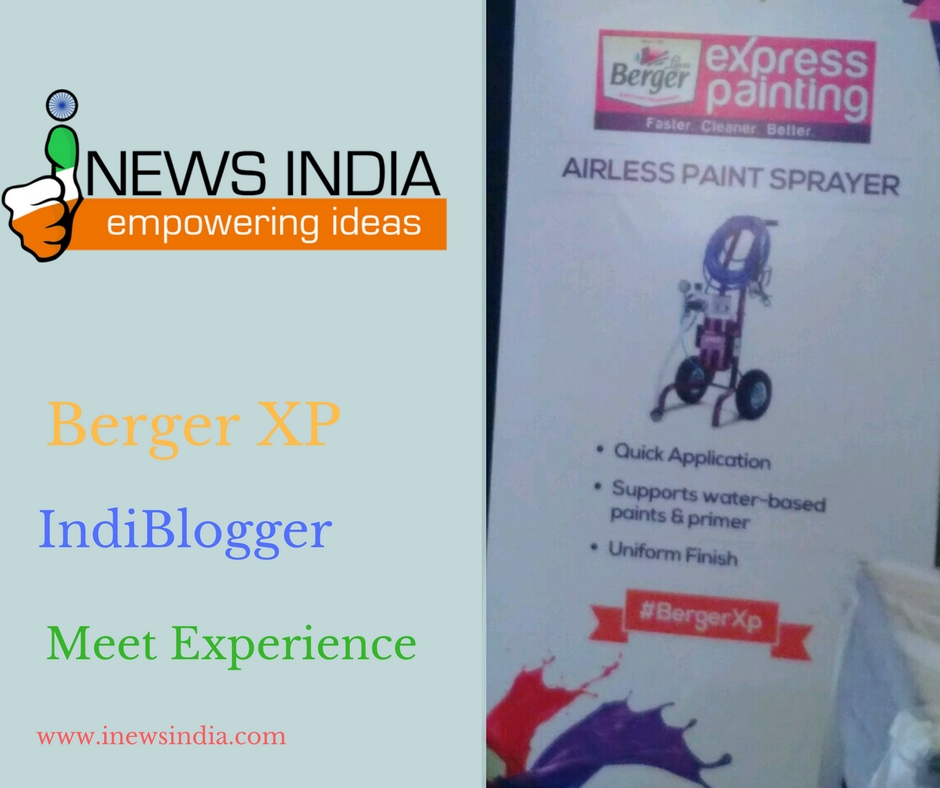 That was the day when Shwetabh Mathur and Dipali Sharma came to meet us, and we were discussing about Indi Meets only, and when this #BergerXP meet announced I already told Shwetabh that you and Dipali will surely get the invite. And the same happened; they got the invite while I was on wait list till one day before.
Anyways, I too got the invite, and was excited to meet Core IndiBlogger Team and some fellow bloggers like Gaurab Mukherjee, Pankaj Kumar, Bushra Muzzaffar, Manjulika Pramod, Nimi Arora, Preeti Chauhan, Shwetabh Mathur, Dipali Sharma and Ragini Puri. But out of these Ragini didn't turned around.
So the Berger XP meet was scheduled at Taj Vivanta, which is there in Dwarka and was around a few kilometers away from our home, so I reached there on time and Shwetabh was already there. I met with Renie who checked my Bar Code, remember these days Indi Team has become advanced and you can attend the meet with the help of proper scanning of the bar code which comes with IndiPass
Superb, no doubt IndiBlogger is one of my favorites, because of all these reasons only. And then I got the chance to meet Anup too, who is my all time favorite 
Anyways the meet started with laziz dishes, though other than deserts there was not a single thing which I should mention over here. And then this time IndiBlogger started the meet with a new concept, it was about know your blog, although it was more about know other's blog. They gave some slips with some content and you need to identify who is the blogger associated with that. Although, only one slip was there which has something related to my blog and the slip was there with Dipali.
All the blogger started searching for who wrote what, and finally Manjulika became the winner of the event, and then we had a few more events in which we cleaned a piece of tile and painted too. Overall it was a complete fun package, and then we got a chance to meet some new bloggers too, like Jhilmil, Neha, Nalini, etc.
The main point of the event was to know about different Home Painting Tools by Berger and it was an awesome thing to know. Watch the T20 of Painting video of Berger XP:
Last year only I went to paint our home and I know the experience which I had with traditional painters and it was over all a bad experience for me, but when I came to know about Berger Paints services, I really found that they have the potential to provide a Faster, Cleaner and a Better experience to us.
Overall it was a great experience all together after so many years. I would advice IndiBlogger team to organize such events on a frequent basis. Check the pictures of the event over here:
https://www.facebook.com/pg/indiblogger/photos/?tab=album&album_id=10154430467777883
Here are some pictures which I had:
If you Like Us then Share Us As Well

You May Also Like to Check These Posts: