Sarees Boost Sex Appeal of Bollywood Stars in Rain Dance Sequences!
/
A Bollywood movie is never complete without a hot and seductive rain dance. History has it that nothing, but a saree can bring out the beauty and sensuousness in a heroine in a typical rain dance sequence.
Any heroine would look devastatingly beautiful in a wet chiffon saree clinging to her body and accentuating her assets. The sight of a gorgeous heroine getting wet in the rain in a designer chiffon sari is quite a turn on for millions of Bollywood movie fans.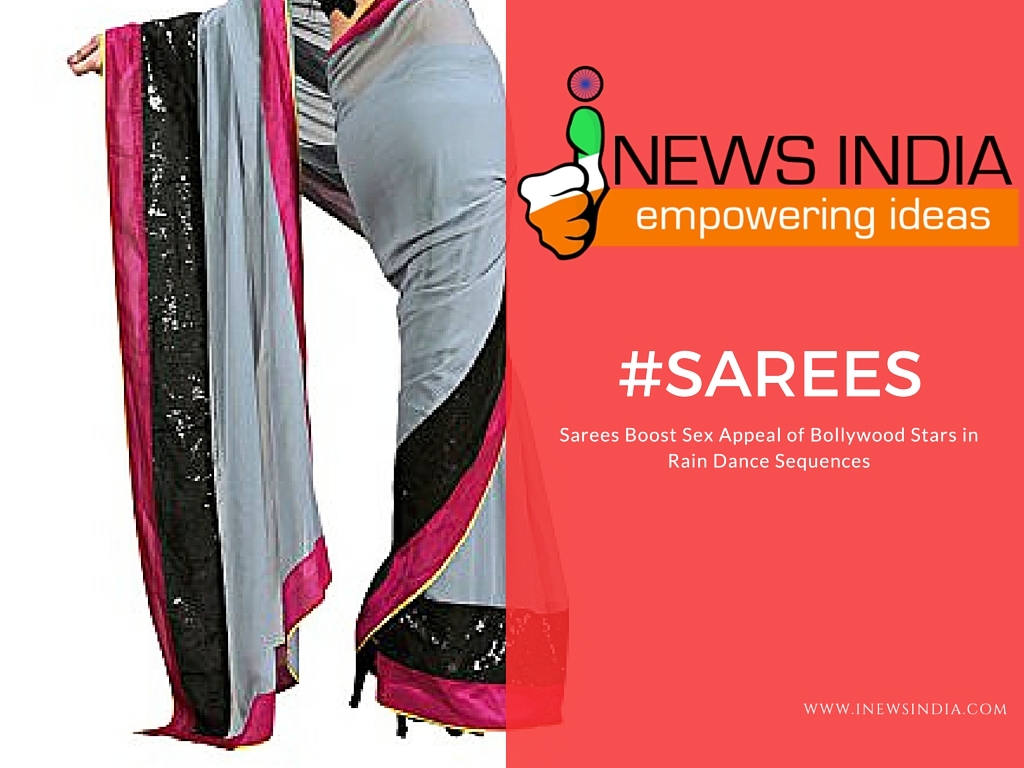 No wonder girls still buy fancy saris and some of the best designer salwar suits online for parties, weddings and special occasions. Here are some of the most sensuous Hindi film personalities who have been and are still the style statements thanks to their provocative and seductive appearances in rain dance sequences in Hindi films.
Zeenat Aman
Bollywood's first ever mainstream bold heroine Zeenat Aman has been mesmerizing her fans with her bold and seductive scenes. She looked hot and sexy in whatever dress she wore as she had her own sense of style, élan and attitude. However, she never looked as hot in any other outfit as she looked in a wonderful white saree, while getting wet in Satyam Shivam Sundaram.
Raveena Tandon
Raveena Tandon came to be called the mast mast girl ever since her movie Mohra got released. Everyone cherishes the memory of watching Raveena in the seductive song tip tip barsa paani with Akshay Kumar. She looked absolutely mind-blowing in her lovely yellow saree. The wet saree made her look stunning.
Katrina Kaif
Katrina Kaif is the queen of rain dance sequences. No one can ever forget the gorgeous heroine in the song aa gale lag jaa from the superhit movie De Dana Dan that released in 2009. Katrina Kaif looked amazing in all the four sarees that she had worn through the number. The sarees looked stunning in black, saffron, red and white. Katrina looked equally hot and sexy in each of these lovely designer sarees.
Kareena Kapoor
Kareena set the screen on fire with her seductive looks in the song Bhage re mann from the movie Chameli. She looked super-hot, and every bit the character that she was playing. Kareena in a hot red saree and embracing the rains with open arms, the sight her fans could never forget. Her sensuousness surpassed all benchmarks!
Priyanka Chopra
Priyanka Chopra looked amazing in the golden yellow sari with a nice black bindi and gajras in Agneepath with Hrithik Roshan. This rain sequence however, was really different from all the others as it had a mix of passionate as well as tragic overtones. Priyanka looked so beautiful and graceful and the sari really complemented her personality.
Smita Patil
Smita was predominantly a character actress mostly working in art films. Nobody would have thought Smita Patil could look so enticing in a rain dance sequence. She proved all her critics wrong and became the talk of the town in the song aaj rapat jaaye toh from the movie Namak Halal with Amitabh Bachchan in the lead role opposite her. This was one of the most frolicsome numbers in her entire filmy career.
Kajol
Kajol really was able to beat every other heroine of her times in terms of looks and performance. She simply looked ravishing and she was really dressed to kill in this instrumental sequence in Kuch Kuch Hota Hai opposite Shah Rukh Khan. Their superb chemistry could be felt. There was something electrifying about the entire sequence. Kajol looked hot and sexy in the rain and her saree clinging to her body was enough to make your imaginations go haywire. She really looked seductive in this sequence. However, she looked awesome in all the designer chiffons and the stunning blouses she wore in this movie. She looked really glamorous and stole the audience's heart instantaneously. This movie was undoubtedly, a runaway hit and designer chiffons became hot favorites with the youth.
Author Bio: Sujain Thomas is a designer and fashion blogger. She does red carpet reviews, uploads new designs and also shares latest deals on prominent sites like Jomso.com.
If you Like Us then Share Us As Well

You May Also Like to Check These Posts: