Valentine's Day for Singles!
So you are single and wondering what to do this V-day? You can't go like your other friends shopping around and buying gifts for your mate. You must be feeling down about not having that special person in your life. Well let me give you a few reasons to cheer up. Being single means no boundations, no one is going to ask you about where and why you are at a certain place, freedom from the stupid fights and mood swings, you needn't leave your work just because your darling wants to be with you and you even save on cash which might otherwise get spent on expensive gifts for trivial occasions. And now that you have several reasons for being happy about your single status, it's time to celebrate.
Those who missed my last post, here is the same: How to Spend the Valentine Day in a Perfect Way!
PARTY WITH FRIENDS: Yes it's time to celebrate the love you have for your friends. Collect your group of single friends and party hard. Order for a big and yummy cake and go for a really good food. Dance to the tunes of great music. Celebrate as if there is no tomorrow. Forget all your worries and enjoy.
PAMPER YOURSELF: All the single gals out there, it's time for the great salon visit. Groom yourself up or may be go for a spa. The aim is to relax. Feel good and look good. May be ask your hair dresser to give you a new look. Go for a makeover. Who knows you might find true love?
GIFT YOURSELF: So what if you do not have someone to gift you the cute teddies and beautiful roses and the yummy chocolates. You could buy them for yourself. You love yourself, isn't it? So why not be your own valentine?
DO NOTHING: Take a day off from work. Work about lazily. Sleep till the afternoon. Watch your favourite movie with all your favourite snacks or may be a big cup of ice cream. Enjoy the movie lying on the couch. It's rest day buddy
GO SHOPPING: Yes, this is what all gals love to do at any point of the day or season. And I know how good it makes you feel. Shopping can bring wonders in your mood. You turn just more enthusiastic and cheerful, right gals?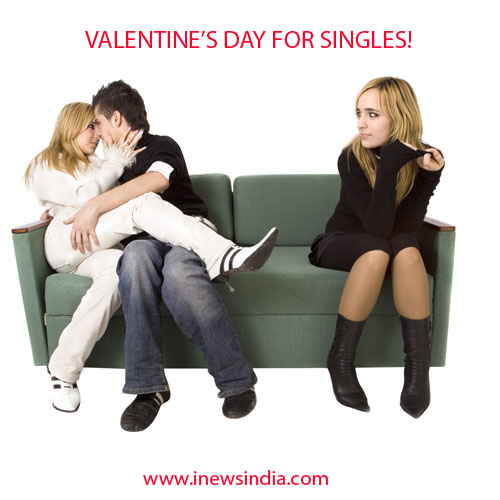 INDULGE IN HOBBIES: Do something that you love. If you love driving, hit the roads. If you are into sports, take your kit and run around the field. Dance, sing, paint, just do what you love.
CHARITY: This is a great idea if you could spend time with the orphans or the helpless women. Talk to them, celebrate with them. Just enjoy the moment. Trust me when you will see that spark of joy in their eyes because of you, your happiness would know no bounds. This also bring a lot of contentment in your life.
THINK POSITIVE: Remain optimistic of the fact that this is the last Valentine day you are celebrating alone. Though we never know when love enters our life but we can always hope for the best. Crying and getting depressed about it will only lead to dejection. As a matter of fact no one loves to stay gloom and nobody likes to stay much with such kind of people. Get up and move on, one day shouldn't make you restless. And you are far better than these couples. You don't have to face the quarrels and thankfully burning of your pocket, you are saving money.
GROOM YOURSELF: Work on your personality. Or better get yourself admitted in a PD Program. You might be able to work on your flaws. This is going to help you in every circumstances of your life. And you will also get more confidence to stand apart in public.
GET INVOLVED: Involve yourself into some classes like baking or adventure sports. This is a great way of utilising your time. You will be learning a lot through this and you might as become strong in handling situations.
CELEBRATE WITH FAMILY: This is a day of love and love surely doesn't mean a boy and girl walking hand in hand. It also means having a quality talk with your dad or learning some art from Mom, going out with your younger bro or helping out your sister in her project. Gift your loved ones this V-day and tell them how much you love and care for them. Show them how much they mean to you.
START UP SOMTHING NEW: Often there are plans in our mind but we are unable to act upon them because of our busy schedules and other commitments. Invest into something new this V-day. Start it now. If you've been thinking of burning all the extra calorie on your tummy, start off now. If you have been thinking of a new business venture, now is the time to initiate. If you have been thinking of writing, let your thoughts flow through words. Just do what you haven't been able to do since long. It's now or never.
So that is how singles can celebrate this Valentine's eve. If you have something else in your mind do drop in your comments and yes go with your idea. We are always short of time so don't let a day let you waste on your precious time. Do what you feel would make you feel good. The idea is to celebrate the day constructively. If you have been out of a relationship lately, do not despair, good times will follow soon. As it is said life is full of ups and downs, success comes only after failure with some tears in your eye and loads of laughter. If there is bitterness of sadness, there is always the sweetness of happiness round the corner.
Wishing all the singles a very Happy Valentine's Day. Who knows this might be your last valentine day alone? Till then enjoy being single
If you Like Us then Share Us As Well

You May Also Like to Check These Posts:
Tags:
Adventure Sports
,
Baking
,
Being Single
,
Bitterness
,
Burn Calorie
,
Business Venture
,
Buying Gifts
,
Charity
,
Chocolates
,
Dance
,
Day of Love
,
Depressed
,
Driving
,
Expensive Gifts
,
Family
,
Freedom
,
Friends
,
Gifts
,
Going Out with Brother
,
Going Out with Sister
,
Groom
,
Group of Single Friends
,
Hair Dresser
,
happiness
,
Helpless Women
,
Hobbies
,
Ice Cream
,
Learning Art
,
Love
,
Makeover
,
Movie
,
Optimistic
,
Out of a Relationship
,
Paint
,
Party
,
PD Program
,
Personality Development
,
Personality Development Program
,
Roses
,
Sadness
,
Salon
,
Shopping
,
Sing
,
Spa
,
Spark of Joy
,
Spend Time with Orphans
,
Sports
,
Sweetness
,
Teddies
,
Think Positive
,
True Love
,
Valentine
,
Valentine Day
,
Valentine Day for Singles
,
Writing
About The Author
I'm a Mechanical engineering student by profession but a writer at heart. I'm passionate about penning down my thoughts. For me my pen is my sword. I'm a deep thinker who is quite affected by the education scenario of India, environmental problems that we are facing today. I love to see happiness around me so I'll always be found motivating people or making them smile. I am an avid reader. Charles Dickens is my favourite author till date and I still love ready Little Women and Mills and Boons. My works: I am into blogging Dreams V/s Reality is my blog...Feel like checking it out...Here's the link http://harshitasrivastava.blogspot.com/ I'm also writing a book though it is in the initial stage. Let's see how it comes out. I'm surely going to update you with this part also. Hope you enjoy my write ups...