Some Tips to Date with Your Co-worker!
Working for eight hours together every day with the same person can create sparks between staff people. Human being is after all a slave of emotions and getting attracted to one's co-worker is quite common and natural. So before one takes the plunge few things should be kept in mind.
KNOW COMPANY POLICY: A few companies do not allow office romances as they consider it a hindrance in proper functioning at the workplace. So go through the office rule book before proposing someone and it shouldn't necessarily be there in the rule book and for this HR could be a good resource. Though some firms do allow flings but in different departments. The company wouldn't like to lose on work because of an affair going on between their staff. They pay you for work, not for romancing around. Ensure that you don't indulge in something that can easily perceive you as a couple. But yes BPOs do encourage dating in official premises so if you are into BPO then love is the way to go man.
KNOW EACH OTHER BEFORE PLUNGING INTO ACTION: Get to know each other really well before you start on with a relationship. Find your common area of interest apart from your field of work. Spend time with each other after work. And when you are out of office don't discuss work, discuss about each other. Initially it's a bit awkward talking about something not related to work with a co-worker but as time passes you'll be able to strike a balance. And if it doesn't you know you two are not meant for each other.
KEEP IT UNDERCOVERS INITIALLY: Stay mum about each other in the initial stage. First confirm about each other then shout it out to the office people. It would be better to announce things like this only when you decide to get engaged otherwise stay prepared to be a topic of hot discussion during office breaks and gossip queens. Do not make a fool of your love. It won't be taken positively by everyone at office. Office gossips can ruin your chances of getting a promotion.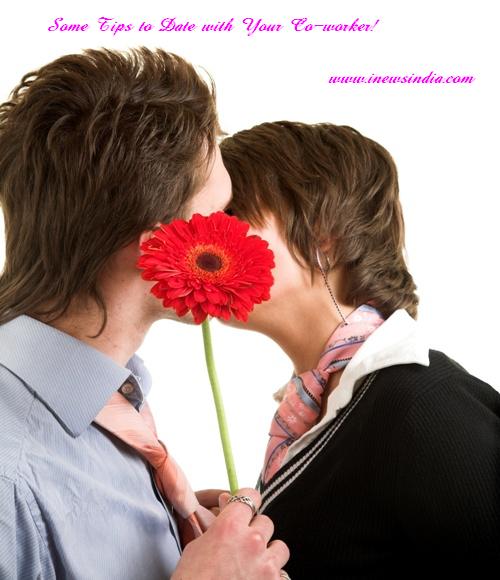 DON'T INDULGE IN PDA: Whether you keep it open or not make sure you do not cross your limits. Always remember that neither your boss nor the employees are going to accept public display of affection. It will only drop your image down. And this might even subsidies your chances of getting a promotion.
Avoid calling each other with personal nicknames. It will be an embarrassment for you later on and you will have to hear them on and off from your staff also apart from your darling of course. Don't hug or even kiss in public. And for heaven's sake avoid physical pleasures totally. You may find it adventurous but you will be at a risk if someone gets to know about it. Either you will lose your job or worse you might even be blackmailed by some random jealous employee.
DON'T DATE SOMEONE IN YOUR CIRCLE: Some say not to date bosses or subordinate. The only thing that should be kept in mind that one should not date someone who is at a distance of a few steps from your desk. This will create an obstacle in your work. If a couple is working at the same floor or the same area of work it is likely to have a conversation quite often, romantic looks and flying kisses. This will also make it difficult for you to keep shut about relationship.
And if you are dating your boss then there may be chances of you getting blamed for getting official favors after break up or even while in it by the staff. And one point of getting it wrong with your subordinate could be you might be accused of being partial with your partner.
So think about all these aspect before taking further steps.
STAY PROFESSIONAL: Keep the relationship a low key affair at work. Avoid sending each other love emails as the office people have access to whatever is going on in the systems.
Do not get involved in passing each other mushy notes at work, stay professional. All the romance should be kept aside while working, Love and tender can be kept for evening and after work hours.
CLEAR OUT YOUR PAST: Since you are going to date your co-worker your past flings will be known through any grapevine. So clear out your past before starting off with a new relationship. Be honest with your date.
DON'T DOUBLE CROSS: Never try to date two people at the same place. This will be degrading your professional reputation as well as chances of promotion because if in case you are caught you'll have to face the wrath of your staff leaving you with no support at office.
HAVE AN UNDERSTANDING WITH EACH OTHER: You need to have a proper understanding with your partner as both of you will be going through the same pressure. Office rumors can also be a cause of fights. Along with that you might have to face your partner's ex daily. Tackle these problems in a mature manner so that all these fickle matters don't become big in your relationship.
KEEP YOUR QUARRELS OUT OF OFFICE: It is normal to have fights and quarrels among couples but it is not acceptable at workplace. The office people won't like to have any problems in work just because you and your partner are not on talking terms. This won't be tolerable so keep your troubles at home. It'll only mess up situations at office.
THINK OVER CONSEQUENCES: It is quite likely to break up with your partner. Things weren't landing well so you two have finally decided to part ways but you will still be co-workers. You can't change your job or your department instantly. Till then you will be stuck up at the same place with your ex so be prepared for a few stares and embarrassing moments. You might also have to go through back biting and office gossips but don't lose your grip in all this. Don't let your break up affect your professional work. Remember it is your duty to provide amicable environment to your team for work even if you two hate each other. Don't let your work get ruined by split.
That is all I can advice you if you are planning to propose your co-worker this Valentine. All the best and prepare well for the valentine celebrations
If you Like Us then Share Us As Well

You May Also Like to Check These Posts:
Tags:
Affection
,
Area of Work
,
Attraction
,
Back Biting
,
BPO
,
Break Up
,
Cause of Fights
,
Chances of Promotion
,
Co-worker Dating Tips
,
Common Area of Interest
,
Company Policy
,
Date
,
Dating
,
dating Tips
,
Dating your Boss
,
Flying Kisses
,
HR
,
Job
,
Love
,
Love Emails
,
Office Gossips
,
Office Romances
,
Office Rule Book
,
Office Rumors
,
Physical Pleasures
,
Professional
,
Professional Reputation
,
Public Display of Affection
,
Relationship
,
Relationship Tips
,
Romance at Workplace
,
Romantic Looks
,
Valentine
,
Valentine Celebrations
About The Author
I'm a Mechanical engineering student by profession but a writer at heart. I'm passionate about penning down my thoughts. For me my pen is my sword. I'm a deep thinker who is quite affected by the education scenario of India, environmental problems that we are facing today. I love to see happiness around me so I'll always be found motivating people or making them smile. I am an avid reader. Charles Dickens is my favourite author till date and I still love ready Little Women and Mills and Boons. My works: I am into blogging Dreams V/s Reality is my blog...Feel like checking it out...Here's the link http://harshitasrivastava.blogspot.com/ I'm also writing a book though it is in the initial stage. Let's see how it comes out. I'm surely going to update you with this part also. Hope you enjoy my write ups...