Top 10 Valentine Gifts Idea for Her!
Valentine's Day… The most awaited day of the year for all the couples worldwide.
Just a week left for the arrival of V-day. And if you still haven't decided on what to gift the girl of your dreams the perfect gift for Valentine's Day. You are at the right place.
CHOCOLATES
The most sought after gifts for girls. As a teenager I always wanted my date to gift me chocolates. Unfortunately no one asked me out. Well we may leave that part of the story for sometime later. So coming to the benefits of chocolates. Did you know it helps decrease the risks of heart diseases as well as helps lift up your energy levels making you more active? Sweet chocolates are the sweetest gift this valentine for your sweet girl. Believe me every girl loves chocolates and she will love them even more if they have been gifted by her GUY.
Since you are her MAN you must be knowing her preferences in chocolates-milk, white or dark and if you don't then go for milk; they are the most evergreen of chocolates. The market is flooded with heart shaped boxes and other romantic packing of chocolates. Pick out the one that you feel your girl will like the most. You could even get chocolates with your names written on it by special order. Just go for them now.
FLOWERS
They are the most classic gifts for a gal and no other gift can truly express the feelings of your heart to the most important lady of your life. Go for red roses. They are the best selection for Valentine's Day. Get them arranged beautifully. And don't forget to add on a special note of love and care you have for her. Roses have that amazing ability to fulfil the desires of your lady. They go beyond the limits in order to strengthen your relationship of love. Roses top the charts for all the gift ideas available for Valentine's Day.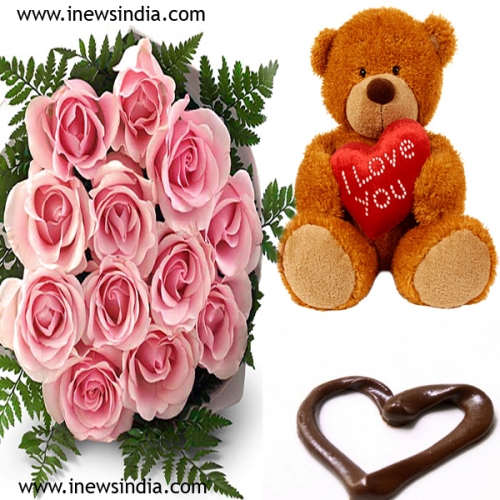 JEWELLERY
Jewellery may include rings, pendants, necklaces, etc. Gifting a ring of promise is one of the best gifts to sweep your girl off her feet. She'll not only be mesmerised by this special token of love but this will also grow your love and respect in her eyes. You could even get your name engraved in a pendant or bracelet. It will stay by her side forever.
HANDMADE FLIPBOOK OR COLLAGE
Personalized gifts are among the most popular gifts with girls. They take pride in telling their friends and family that how you spent your week making this collage all by yourself especially for her. Collect all the moments you people have captured together throughout you relationship and either make a flipbook or a collage for her. Along with that add caption to each photograph with cute messages. And if possible dedicate a poem to her written by you for her. She'll love you all the more when she sees this.
A BASKETFULL OF GOODIES
Your gal will be overjoyed to see a basketful of all the goodies she loves. You could include chocolates, roses, small love quote diaries, lockets, small teddy bear, lovely messages, photo album and all the sweet little things she loves.
DIARY
For me this is the best gift to get on every occasion and if your girl loves penning down her thoughts then you could gift her diary as well. Often a diary is a gal's best friend. She can't tell all her feelings to everyone so she pours her heart out in her diary. Hence this could be a great idea of gifting as she could share all the special moments she has with you with her diary.
TEDDY BEAR
A girl loves to cuddle with her teddy bear before she goes to sleep at night and when she misses you her teddy is her only companion. So what better gift could a girl get on this Valentine's Day? At least she will have someone to stay by her side when you are not available.
PERFUME
Who doesn't love fragrances? And if you are her MAN then you must well be knowing her favorite fragrance. Even if you don't you could ask that out from her friend or close family member. And in case you can't get in touch with any of them you could try Armani's Acqua di Gioia, Romance by Ralph Lauren or Eternity by Calvin Klein. She will love to have that smell on her if it has been gifted by you.
A CUTE PHOTOFRAME OF BOTH OF YOU
Get a huge photo frame to adorn the wall of your bedroom or a small one to keep at your bedside. Get a picture framed that you feel is the best until now. Won't it be a good option to gift it to her so that she can feel how lucky she is to have you and how good you both look together before she sleeps and after she wakes up? An amazing gift for this Valentine Day.
COFFEE MUGS
Gift her a personalized coffee mug or a simply a coffee mug with 'I LOVE YOU' written on it. It will only add on to the huge amount of love she bestows upon you. You could get a sweet picture of you two in a personalized coffee mug with your message. You guys can share romantic coffee dates at home itself with coffee mugs gifted by you. She will definitely love having coffee in mugs you gifted her. And she is going to love them even more when you will away from her.
These were the most sought out gifts for the Valentine's Day for girls. I hope you have finally figured out what you are going to gift her this Valentine's Day. You love her and want to gift her the best, isn't it? After all her smile is the thing that motivates you to do better in life. Her happiness makes your day. So shouldn't there be something special for her this Valentine's Day. Go make her happy.
Happy Valentine's Day…Have a good time!!!
If you Like Us then Share Us As Well

You May Also Like to Check These Posts:
Tags:
Amazing Gift for This Valentine Day
,
Armani's Acqua di Gioia
,
Calvin Klein
,
Chocolate
,
Coffee Mugs
,
Collage
,
Dark Chocolate
,
Date
,
Diary
,
Eternity by Calvin Klein
,
Family
,
Flipbook
,
Flowers
,
Fragrances
,
Gift Chocolates
,
Gift for Her
,
Gifts for Girls
,
Goodies
,
Heart Diseases
,
Heart Shape Pack
,
I Love You
,
Jewellery
,
Lockets
,
Love Quote
,
Love Quote Diaries
,
Lovely Messages
,
Milk Chocolate
,
Necklaces
,
Pendants
,
Perfume
,
Personalized Coffee Mug
,
Photo Album
,
Photo Frame
,
Photoframe
,
Photograph with Cute Messages
,
Popular Gifts with Girls
,
Red Roses
,
Relationship
,
Ring of Promise
,
Rings
,
Romance by Ralph Lauren
,
Romantic Coffee Dates
,
Romantic Packing
,
Small Teddy Bear
,
Sweet Chocolates
,
Teddy Bear
,
Token of Love
,
V-Day
,
Valentine Day
,
Valentine Day Gift for Her
,
Valentine Day Gift Idea
,
Valentine Day Gift Idea for Her
,
Valentine Day Gifts for Girls
,
White Chocolate
About The Author
I'm a Mechanical engineering student by profession but a writer at heart. I'm passionate about penning down my thoughts. For me my pen is my sword. I'm a deep thinker who is quite affected by the education scenario of India, environmental problems that we are facing today. I love to see happiness around me so I'll always be found motivating people or making them smile. I am an avid reader. Charles Dickens is my favourite author till date and I still love ready Little Women and Mills and Boons. My works: I am into blogging Dreams V/s Reality is my blog...Feel like checking it out...Here's the link http://harshitasrivastava.blogspot.com/ I'm also writing a book though it is in the initial stage. Let's see how it comes out. I'm surely going to update you with this part also. Hope you enjoy my write ups...