Importance of Good Communication Skills behind your Success!
/
Before getting on to know about good communication skills, the first question that I want you to answer is what communication is. On a general note communication is a conversation between two or more people which includes sender and one or more receivers. A successful communication is when the receiver understands exactly what the sender is trying to explain.
How does having good communication skills help you? Yes, since we are here to learn about the art of communicating in an efficient manner we need to know its purpose. Having an excellent command over communication ability doesn't only help officials and MBA grads. It's for everybody.So you want to propose this girl you like and you are horribly nervous about telling her about your feeling, your communication power will help you out. So catch up on some communication skills this valentine. If you have just joined a new organisation or a school, college, etc, you need friends to talk to, you require company, and communication helps here too. You want to explain to your wife that purchasing a refrigerator is more important than buying a designer dress. Yes, you got it right. Good communication skills will help you out. And finally you want to convince your boss how good your project is you need communication expertise because even if your idea is great the investors won't get convinced till you influence them with your communication skills.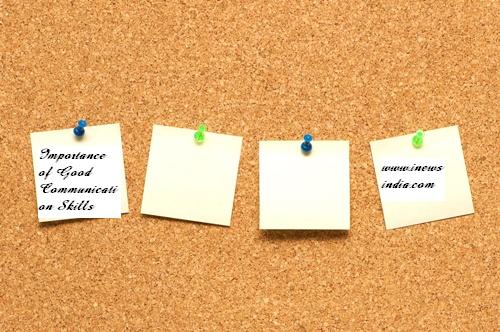 Few benefits which you have if you communicate efficiently have been listed below:
CONVINCE PEOPLE
You'll be able to influence people in a better way. You may negotiate effectively and provide valuable feedback.
MOTIVATE PEOPLE
You will be able to inspire and encourage your staff in a more efficient manner if you've got the right communication power.
PRESENT PROPERLY
Good communication skills can help you present your idea to your boss properly and getting an approval for the same quickly.
BUILD CONFIDENCE
Accept it or not, good communication skills help you gain self confidence. It reduces your fear and helps you gain respect in your department.
BUILDS A WIDER NETWORK
It helps people build trust in you thus broadening your area of work as well as helps in maintaining strong and valuable relationships.
PEOPLE INVEST IN YOU
For marketing people this one is like getting a gold mine. Your communication talent will help you gain the trust of investors. It reduces the anxiety in investors and thus you pick up good referrals. It reduces confusion in the mind of your team as well as the investors.
LEADERSHIP QUALITIES
One more advantage of having good communication skill is you learn the act of being a leader. People listen to you attentively and they want to be in your team.
Now I think we should get started on how you can improve your communication proficiency and what are the basic requirements to sway away the audience with your communication skills.
PREPARE YOUR CONTENT WELL
Know what you have to say. Jot down the key points and try to remember them. Keep it short and simple so that the listener's interest remains intact. Do not stretch your topic unnecessarily. It'll ruin the presentation.
MANNER OF SPEAKING
Approach the audience with simplicity. Do not show excessive attitude. Simplify the complex topics. Speak clearly and pronounce correctly. Speak slowly, don't go fast. This will also how the signs of nervousness. Speak according to the strength of the audience. If it's small don't go too loud. Modulate your voice. Do not have a continuous high pitch. Raise and lower your voice accordingly. Voice modulation is an important part having good communication skills.
BODY LANGUAGE
Body language is referred to as non verbal communication. It is the art of using your hands, legs and other body parts in the proper manner while communicating with someone.  Maintain eye contact with the audience but do not stare. Don't cross your arms or your legs. It shows as if you are acting defensive. Stand up with your hands clasped in front of you. Take space while you are presenting. Use the space given to you. It shows confidence in you. Relax your shoulders and don't slouch, sit up straight. Lean but not too much. Smile while the session is on. This gives you a pleasant personality. Don't give serious looks. Use your hands while explaining things instead of scratching here and there. Fiddling is a sign of nervousness.
KNOW YOUR AUDIENCE
One thing you need to keep in mind while giving is getting an idea about the audience and the venue before you speak. If you know about your audience you'll be able to shape your message in a proper manner. Addressing the audience will be easier and convincing them will also be uncomplicated. For example approaching a group of managers will be different from approaching a group of high school students. Handling an audience of 30 people is different from handling an audience of 300 people.
ANSWER QUERIES
Research on your topic well enough so that you are able to solve out their queries in a better way. Answer the doubts of the audience with clarity and confidence. Use visual aids while answering. These make understanding better. But remember don't run out of time while responding to problems. And don't try to bluff your audience, they aren't fools.
USE OF VISUAL AIDS
Use audio visual aids. It improves understanding power. Distribute hand outs before starting the session. Don't read out from notes for a longer period of time though you may glance at them.
HAVE PATIENCE
Keep your calm if you're losing on to some topic or you are unable to clear someone's doubt. Patience will help you overcome all your problems.
PRACTICE
Last but not the least. Without practice you can achieve nothing so before giving a presentation stand in front of the mirror and analyse your facial expressions, your body language and voice modulation. Judge yourself impartially.
That's all for today. A few aspects to be kept in mind so that you don't lose onto the next promotion in your firm. Get going, get started. Now is the time to act properly.
Run before someone else catches on the same. All the best
If you Like Us then Share Us As Well

You May Also Like to Check These Posts: