How to Love your Own Life?
/
I met a 16 year old teen at the park today. She had a beautiful face but this face had something missing and that was the shine, the spark of living life. She was sitting gloomily there as if she had no goal, no happiness, nothing. Something in her face made me curious to know about her. I kept on watching her and she had that constant sadness on her face. After a few minutes I saw tears running down her eyes. I couldn't stop myself anymore and went out to her asking her the reason for this depressing look on her face. I hugged her and she cried like a baby. I comforted her and I came to know that she had been failing in her exams since the past two semesters, her relationship was going nowhere and her family problem were making her go crazy and finally I was saddened to hear her say "I HATE MY LIFE AND I HATE MYSELF".
This made me think that there are hundreds of people who are having problems in life and finally even they must be reaching to the same conclusion like the 16 year old girl. With the increasing number of suicides depression and rejection in people has become so intense that they are now resolving to end their life. All I would like to say is that before taking any such step just think about loving your life and I assure you everything is going to be alright once you start loving yourself.
Always remember the key to having a satisfied and content life is positive thinking. All other aspects are secondary. Enjoy life, never let work over burden you. Do the work you love. Take a break from your professional life and celebrate. Give time to your hobbies. Stay happy by making others happy. Live life on your own terms; don't let anyone run your life. You've got just one life so live it the way you want it to be.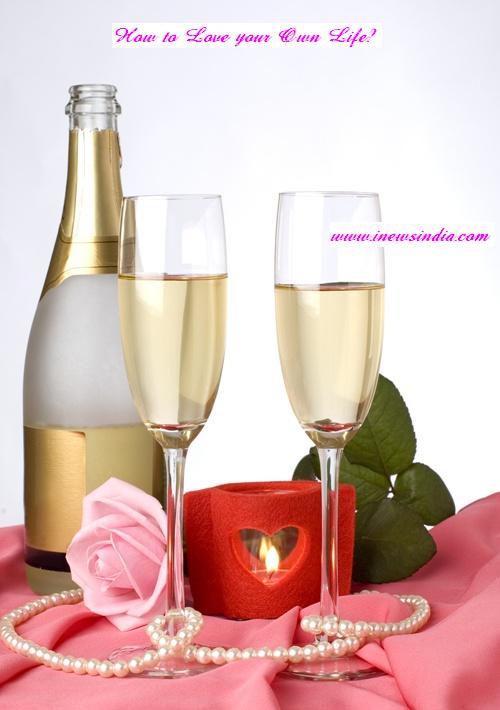 POSITIVE THINKING
As I said earlier being optimistic helps you in every sphere of life. Never turn towards the negative side of a situation. Always encourage yourself. Think well and stay clear. This will make you confident and you'll always remain cheerful.
BELIEVE IN YOURSELF
Whether people are against you or they support you, have a strong belief in yourself. Believe in your ideas and what you do. If you have faith in yourself you'll never fail in life.
LOVE YOUR WORK
Always do what you love. If you don't love your work you will never be happy. You won't have mental peace as you are not doing the thing you love and since you don't enjoy doing your work you will not be able to achieve success. All this will only lead to frustration and dejection.
HEALTHY LIFESTYLE
Have a healthy lifestyle. Eat good and stay fit. Exercise daily. It totally depends on you how you want to stay fit. For some it is morning and evening walk while for some it is jogging and aerobics. Meditation connects you with your own self so if possible definitely try it out. I assure it's going to help you feel better. Get involved in sports. They are a good means of having a healthy and strong heart.
Take proper sleep. As it is said early to bed and early to rise is the best way of keeping you hale and hearty. Yes it is 100% true, late night sleepers will feel lazier than the person following the rule of waking up early. You will be more active in your work and you'll feel fresh.
HAVE A VISION
Dream…Yes you should always have a dream, a vision to work upon. Become ambitious so that you always have a reason to live and love your life.
AVOID SELF PITY
Neither criticize yourself nor have self pity. Both of them will only lead to disappointment. Accept yourself as you are. Don't underestimate yourself. God made you this way and you are His special child. Stop cribbing about things. Either try to change the things you don't accept or change your attitude towards them.  Learn from your mistakes and accept your failure. Failures are stepping stones to success. Stand up for yourself. It's high time you let people dominate your decision. This is your time. Face the situation and fight for it. Forgive your enemies and get inspired by people. Inspiration does not always have to come from a high esteemed learned people; it can also come from a rag picker who even after being poor possesses the virtue of sharing.
LOOK GOOD FEEL GOOD
Dress up well. If you are going to dress up smartly you are definitely going to feel more confident and active. Positive vibes will be by your side and you will love yourself for this. Pamper yourself. Go get a facial and manicure done at the salon. Your inner beauty as well as outer beauty will help you bring joy and you'll start loving your life again.
BE SPIRITUAL
Spirituality is different for everyone. For some it is religion and prayers and for some it is a connection with one self. Whatever the case may be with you it will help you feel content and bring your mind to rest. That stability in your life can well be achieved by being spiritual and getting involved in some spiritual communities like the Art of living. Self analysis can also be attained by being spiritual.
SERVE MANKIND
Get involved in social work. Whichever social issue is close to your heart, women empowerment, education, poverty, etc. Work for the society so that it pays you back with the goodness of life. Believe me when you see a kid smiling because of you the contentment you are going to experience will be beyond expressing it in words.
TAKE A BREAK
Stop and take a break. You've been working for long. Now is the time to be with your family. Go and have a romantic dinner with your spouse, play with your kids and relive the days of childhood, give time to your parents. You need your family and your family needs you. Remember that your family will always be by your side, in good times as well as in bad times.
Hasn't it been long since you met your college friends? Yes, now is the time to give them a call and have a lovely reunion. Thanks to the social networking sites you don't have to worry about staying connected with your old buddies. Celebrate and party. Hang out. Love your life? Don't you now?
BALANCE WORK AND LIFE
Maintain a balance between your professional life and personal life. Give both of them adequate time. Don't work while you are at home and don't think about your date while working.
GIVE TIME TO YOUR HOBBIES
Travel if you love to do so. Plan out a trip with friends or family and give yourself a lovely time. Relax and give time to your hobbies. Painting, Singing, Dancing, Reading, whatever you like to do in your leisure time don't forget to give it some of your precious time.
SMILE
And finally don't forget to smile. Laugh at the jokes. Go crazy. Don't forget that being happy and loving your life is your motto. Even if the world laughs at you laugh at them and tell them you don't care about anything other than your happiness. Make your life colorful.
So finally we know that loving our life involves small little points we miss on and end up being a part of depression. So shake off that gloom and dance to the tunes of bliss and delight. It's time to love your own life.
Enjoy
If you Like Us then Share Us As Well

You May Also Like to Check These Posts: