INI Weekly Series – Week 37 Blog Posts!
/
As you all know that we started this trend of sharing all the posts of a week in a weekly series and hence this is our 37th weekly post.
In this 37th edition of the INI weekly series (since we started sharing this weekly trends), I will be sharing the blogs which I published during the week of 29th December 2014 to 3rd of January 2015 on I News India and other blogs of mine.
This was the time when we bid good bye to the year 2014 and welcomed 2015 on Thursday. And from this week onwards I decided to publish only 4 blogs in a week on I News India, one blog at Tech Acid and one blog on one of my other blog Coloring Lives.
Though Coloring Lives is going through some transition phase, so the blog posts on CL will take some more time.
Hope you all will enjoy reading them. Please don't forget to share your opinion about it.
Here are the blogs which I published this week:
Social media is something which no blogger can be able to ignore these days. We all want that our blog should be viral on social media. Do you know the secret of how to make a socially viral blog?
Read on this blog post to know what things can help your blog to become a socially viral one?
New Year is the time when we all makes some resolution. I know we all are going through celebration time right now, though meanwhile I prepared this list of 10 resolutions which we can make in New Year.
Read on this blog post and do let me know if these are the common resolutions which we need to make on New Year's or not?
Many bloggers want to earn through their blog. Out of so many advertisement programs available on net, Google Adsense is being considered as the best. Read on this blog post of mine on how to earn from your blog through Google Adsense?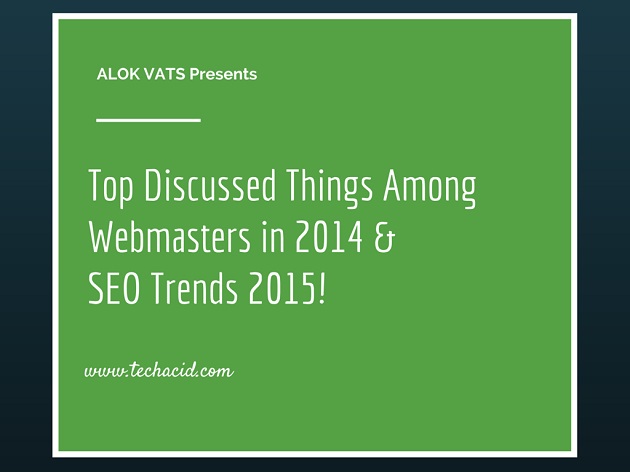 Today is the last day of the year 2014 and 2015 is just a few hours away. I thought to write about top discussed things among webmasters in 2014 and some SEO trends and tips for the New Year 2015.
That is the all for this week, hope to see you all on next week with some more exciting blog posts and new things. Wishing you all a happy and prosperous new year once more.
If you Like Us then Share Us As Well

You May Also Like to Check These Posts: