Best 5 Apps for Women Safety!
/
Women safety is a matter of grave concern these days. Women are at the receiving end of appalling rapes, brutal murders and various mistreatment's. Despite the agitations and protests against crimes against women, the crime rate still soars high.
Therefore, women need to be constantly on their toes, very careful, and loaded with preventive and self-defense measures to be safe. One of the most handy and useful gadget in modern times is the smart phone. This mobile phone can be of great help if you have the right applications installed.la
Here are the Best 5 Apps for Women Safety that is incorporated in mobile phones. Since everyone carries a mobile phone these days, it is a brilliant step to equip mobiles with safety apps that can help in safety of women. Explore this blog to know about such apps.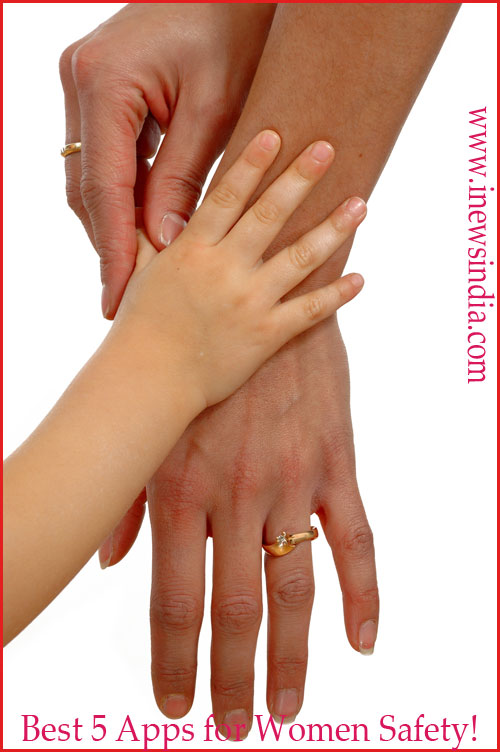 Best Women Safety Apps
The best mobile apps that contribute to women safety are -
bSafe
This app sends timely info of the user to chosen contact numbers during emergencies. Based on GPS, it is available for  iOS, Android and BlackBerry mobiles and tablets. Its features are quite helpful  and aim towards your individual safety. It is easy to use and provides two contact methods – voice and SMS.
In case of an emergency, all you have to do is to press a red button to call or send an SMS instantly. You can also make a list of some selected people to track you live. You can also program its SOS alarm to be triggered automatically, in case you couldn't check it during a pre-defined period. This safety app helps you to be free from a problematic situations within no time.
For more details about the bSafe app, or to download it you can visit https://play.google.com/store/apps/details?id=com.bipper.app.bsafe&hl=en
Hollaback
As the caption of this app suggests, "Hollaback! you have the power to end street harassment." You can capture the harasser's photograph, upload it and submit your story on ihollaback.org.  This is a free of cost version available in Android phones and iPhone.
Hollaback is an international movement part. It makes efforts to fabricate a crowd-sourced program to put women harassment to an end and bring women security issues to light.
To know more about them you can visit http://www.ihollaback.org/
Circle of 6
With this app, you can select your six best friends and add them to your circle; just as the name of this app suggests. In case of an unsafe situation, you can send a pre-programmed alert SMS mentioning your accurate location to your circle by tapping twice. It has good compatibility with iPhone 3GS, iPhone 3G, iPhone 4S, iPhone 4 and iPhone 5.  The app has easy to push icons. It is a great help to be safe.
To download circle of 6 you can visit https://play.google.com/store/apps/details?id=com.circleof6&hl=en (This link is not working anymore: Update on 30th November 2016)
Fight Back
Launched by an NGO – Why Poll, this app helps you in alerting selected people in your contacts list in case of any dangerous situation.
It is a useful application and functions well with smart phones and java based feature phones. At present, it is available from Nokia Store, Android and Blackberry store; and employs GPS, GPRS, email, SMS, your Facebook account and location maps to inform your contacts about your situation. You can add to the list, five emergency contacts.
The alerts page gets updated with the live alert data on pressing the Panic Button. It also showcases the alert location on the Google Map. To know more about Fight Back, or to download the same you can visit: http://www.fightbackmobile.com/welcome (Their website is showing Under Construction at the moment)
SOS Whistle
Rather than sending an SOS to your family and friends, this app emits a whistling sound. The sound is clear and loud enough to tell passersby that you are in a big problem. You need not have a GPS service or a data connection to use this app.
You just have to press the whistle icon to make it emit whistling sound and press the same icon to cease whistling. A Light function is also there with which you can veil the whistle icon but can press it for a loud whistling sound. To download the same you can visit https://play.google.com/store/apps/details?id=jp.co.comp.android.whistle&hl=en
Mobile apps have emerged as great helpers of women and can prove to be instrumental for their security. These innovative apps are designed to work for your safety in case of any emergency situation. The Best 5 Apps for Women Safety eulogized in the piece of writing above can be practical and useful tools for your protection.2
Author Bio: Nidhi Lyall is a seasoned content writer associated with Koenig Solutions. A leading IT offshore training firm, Koenig Solutions actively participates in various CSR activities.
Nidhi has been writing articles and blogs on various topics from travel and living to core technical write-ups as well. Her creative writing experience of more than three years has helped her gain valuable insights on a variety of subjects.
If you Like Us then Share Us As Well

You May Also Like to Check These Posts: