How to Show Gratitude Towards People Who Loves You!
A few days back one young girl asked me how to show gratitude towards people who actually loves you? My response was simple; you should thank them from the bottom of your heart. They should not feel that you are thanking them just for formality.
I guess, my response was true, but still I asked a few friends of mine and then I decided to write a blog on it. When I discussed this with my friends, I realized that it is quite common that we feel gratitude towards many, but for some unknown reasons we did not express it.
Is it good?
Well in my opinion it is not good. Be it gratitude or any other feelings, we should not hide it. We must need to express the same, but in a proper manner.
In US, one entire day is celebrated only to thanks other. This day is known as Thanksgiving Day, the day known for appreciating the help of others.
Frankly speaking, every other person who comes in our life teaches us something. It is our duty to express the gratitude towards them so that they can be more inspires to reflect the same things with other people as well.
Here are some of the ways to express the gratitude towards people who love you:
Share Their Help
These days' social networking websites like Facebook, Twitter etc. are on a boom. Almost all of us use them. When we really want to express our gratitude towards the love given by someone, we can always use the social networking sites to thank them.
As I said already that thanking them is the best way to express gratitude towards them, so in social networking websites, we can share a specific example, how it helped us and a special thanks note to that particular person.
I am sure it will give a pleasant surprise to that person.
Long Hug
It can be good enough for some close friends, or for some close relationships. If you want to express your gratitude, but without expressing a single word, a hug is the best way. I am sure many people will like it, but in case if you are aware that some people will not prefer a hug from you then in my opinion you should avoid it.
A Bouquet
Well, this is something which I really want that someone will do with me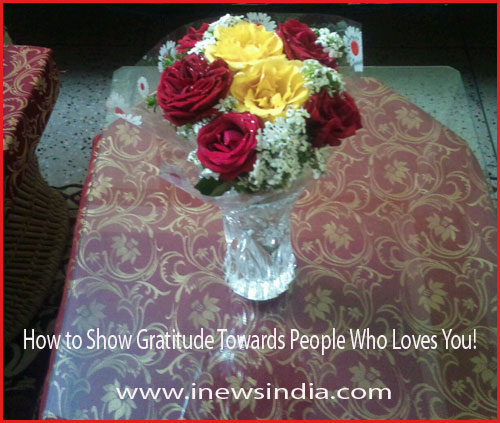 Send or gift a bouquet to the person and I am sure you can see the smile on his/her face. In my opinion this is one of the best ways to express the gratitude towards someone who loves you. In my whole life I have received only one bouquet so far and you will be happy to know that it made me too happy.
Chocolate
Works well with girls.  

If you really want to express your gratitude towards any female, then my suggestion will be to gift them a chocolate. I am sure it can fulfill the smile on their face.
Do Something
Quite simple way to express gratitude towards someone is that you can do something for them, which can be any small task, but too much meaningful for them.
I use to prepare dinner for my wife to express my gratitude towards her love, and I guess these types of small-small work can express your gratitude in a huge way.
Send Card
Well, it can also be considered as a simple way to express your gratitude towards them. You can anytime send a greeting card (online one will also work) to them, and I am sure they will love it.
Although there are many other ways also through which you can express your gratitude towards others who loves you, but in my opinion surprise is the main factor which can be helpful for you to express the same. A surprise factor is always required to express your gratitude. Also don't forget to complement them for anything.
Though, it's a small article, but I guess you all will like it. Do let me know your feedback about it with the help of comments.
If you Like Us then Share Us As Well

You May Also Like to Check These Posts:
About The Author
Hi friends, my name is Alok Vats, and I am the owner of this website I News India. From last six years I am trying to build this website, I started this website from scratch and then with the help of my friends like Pooja, Prachi, and Divya I published many articles over here. Recently Harshita, Tanmay and Aayushi too joined my website, and am really glad to share some articles written by them over here. I am sure many of you would love the same. These days I am managing the site with myself only and the focus is to share blogs on the topics like Blogging Tips, Self Improvement, SEO, and all other things which can make you to enhance your life.