How to Become a Good Leader!
/
In the present scenario, where people are running after one another just to adjudicate a successful life, there are few people who think little different, who believe to be the true leaders, who wish and believe to go ahead in the crowd and lead the masses. Those people are the veterans of the society, these are the people who actually think with a difference and improvise their life differently. Those are the qualities of the leaders.
Here are few leadership skills which would help you to be a leader in life.
Who is a leader?
Leadership is never an inhibit quality; nobody in this world is born with an inbuilt instinct of leadership among them. A firm desire and strong will power can make you a true leader in life. Only the good people who tend to have a learning attitude, self motivation and who learn from his/her expirerience can be a good leader.
How can you become a leader?
Know your followers: For being a good leader, you need to be communicative, with your team mates. You need to talk to them over and over again. You need to listen to their problems. The people of your team might at times not be very vibrant, thus, it is your responsibility that you can get the best out of them.
Be technically proficient: a leader always has to face many situations in which he / she is required to take sudden instant decisions, sometimes which might be a cause of concern or discussion for thousands of people. Thus, a leader should be proficient to know what actually can be done at which situation. Decision making is the very important art of making decisions.
Search for responsibilities: A good leader always looks for taking his / her organization at new heights. He / She sometimes has to take decisions which his team mates may not like, but it is his/her duty being a leader, that he /she not only convince the team mates but make them work out for his/ her plans.
Be a Role model: Being a leader you need to do something different from the rest of the lot. You must set examples for them, so that others may listen and follow you. Always remember, people value the actions more than the words.
Get involved with your teammates and know them: Leadership is just not being communicative just during the time of work, but a good leaders is one who knows all his/her team mates well enough and cares for all of them. Remember, a leader must always care for his / her followers listen to their problems and give decisions and try to help them in the most possible manner.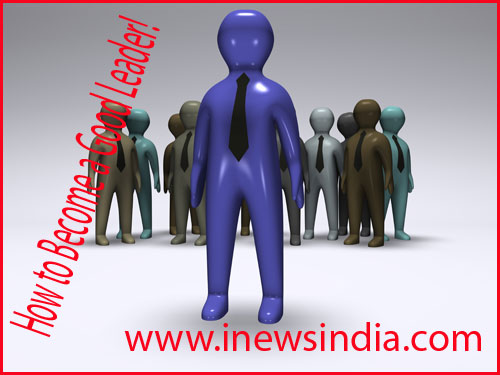 Keep everyone informed: Their might be people in your association who are at a higher position then you. Thus, you need to inform them as well about the works that you are doing along with your team.
Develop a sense of responsibility among your team mates: Your team mates are your volunteers. It is your duty to ensure that they are being sincere. You should develop a sense of responsibility among you.
Make a team, not a group: A team always has a goal and is defined for some specific work; on the other hand a group has no goal. Build up a team and not a group. Please ensure that your team does not get divided into small group but built up as a single unit.
Ensure that the planned work is completed: You must ensure that every work that has been discussed is accomplished and fulfilled.
No communication Barrier: Leader must ensure that each and every message and information gets communicated to each and every member. There must not be a communication barrier between you and other people.
Understand the need and characteristics: A leader needs to understand the need and importance of every person in the organization. This helps in the developments of works in a proper way.
Evaluation: This is yet another requirement of a leader. It is necessary to put up checks on each and every person who is under you. This not only gives the overview of the performance but also lets the leader to know the ways of improving the group's performance.
Counsel the important people under you: In this step, first you need to understand the situation, where it is required to listen to every person carefully, understand the facts and the problems. Second, you should make a draft of all the possible measures that are needed to be taken, thirdly, list the advantages and the disadvantages of a situation.
Then give a chance to the important people under you to take a decision, finally discuss, your decision with them and come out with a solution.
Explore the skills of the team mates: A good leader always gets the best out of the members of his team, he should try to explore the skills of his team mates, their interests and the resources they are available. He/ She must inform about the important people's works to their parents and make them an important part of the program capability survey.
IMPROVE YOUR SKILLS: In order to become a good leader a person needs to improve his/ her communicating capabilities. He/ She must keep a note, ask
Questions, should speak slowly and in such a manner that others are listening to you.
GOOD PLANNER: A goof leader is always a better planner. He/ She must be able to plan out things in the most feasible manner which is in accordance with his team mates.
Team discussion: After completion of the project/Activity, discuss the same with the TEAM. Find if the entire team enjoyed the activities, find if any of the group members have improved or not.
You can be a leader, but you need to follow few basic factors, honesty, sincerity, truthfulness, passion, love, good communication skills, firm determination and a great passion towards work can make you a good leader.
If you Like Us then Share Us As Well

You May Also Like to Check These Posts: