How to Ask a Girl for a Date?
/
Many people find the job of impressing a girl and asking her for a date a tough cookie, even though the task is pretty simple, all you need to do is to keep your mannerisms and etiquettes intact. Your manner should be relaxed and confident.
Most of the guys feel shy in asking their girl out, but one thing that you need to keep in mind is that women love being noticed. Even if she says a no, she would feel splendid that a guy asked her out. This gives you yet other chance guys, to keep asking her in some way or the other for a date. But remember, do not force her, here comes your tactic of being relaxed and keeping your manners and etiquettes intact.
Your main aim should be to attract her, once she is attracted to you, there's no chance that you get a "no" from her.
Here are a few tips that will surely help you to ask a girl out for a date.
Do not spend too much time and mental energy on thinking, and waiting for the correct time to ask her out. One should only be focussed on building attraction.
You might be tensed, excited and worried as to what the reply shall be, but the manner in which you ask shall not portray the condition of your mind. Be relaxed and in a very gentle manner SUGGEST- "hey give me a call, let us plan meeting someday?" OR "I was wondering if we can spend an evening over a cup of coffee?"
Rather than ASKING, "Will you like to go out with me", this clearly depicts you are not relaxed:
You can act straight forward by inviting her and tell her "this is what i have planned to do, would be great if you can join me?"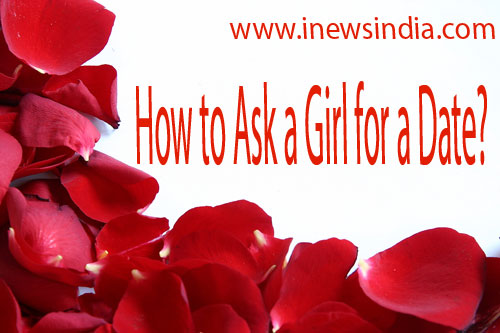 These days no one straight away goes and ask their crush, "Will you come with me on a date". The most blunt way and "not to be used" way of asking your girl out. A girl always likes a guy who is innovative, be it in thoughts or in his deeds, and the most when he is asking her out for a date. The way may be a twisted one, but should be something that impresses a girl.
Notice the way she looks at you – whether she gazes at you for a long time or she pulls away immediately. This could mean either ways. If you are staring at the girl, and she stares back, this could mean that she doesn't like you.
Look at her and talk – your eyes should not gaze here and there while the girl is talking to you. If you look around rather than looking at your girl, she might feel absurd. Girls love seeking attention, so please make it a point that she gets it in abundance.
Help her out – In case the girl is carrying anything that is heavy, you should be the one to help her out, and not any other person. Help her out with her shopping bags, this makes her feel pampered.
Find out what her interests are – if you are inviting her over her favourite activity, to which she cannot deny, it is then when you have definitely earned a date.
Make her feel special over small meetings, this could be by making her a CD of small collection of her favourite music. This can be inexpensive and a special way to make her feel special.
When just the two of you are alone, casually slip into a conversation and suggest her playfully as to how you can be a date for her. These are a few ways which a guy must learn in order to treat her woman.
Ask her in person and not over facebook or e mail for a date, this would not really make a very good impression of yours. The option of phone is still a better idea.
Now comes the time when your girl has already said a YES for the date and you are all set to go for one.
Look presentable and do not make her feel embarrassed while she is out with you, moreover she must not feel, that it would have been better had she been alone. Keep entertaining her by talking on the topics that she likes to talk about.
Remember you have brought her for a date, do not let her spend money. To sum up, carry enough cash with you. Many women feel a bit shy over the first date, but a few might not hesitate to order the most expensive dish or the most expensive drink, so you have to be ready for any kind of circumstances.
Women like men who have good looks, but that is just one out of many factors which impress a girl. Girls like men who are witty, strong enough to protect them. Many of them are attracted to humour, fun, attitude and intelligence. If you make her smile and laugh, then 90% of your work of taking her out is done. You should always look out for the appropriate time when you should ask your girl out. Another important thing, if you do not know how to create that sexual attraction with your woman, then this is something that you should definitely not miss on. From her gaze, her subtle smile, body language, the way she curls her locks, you will know whether she is attracted to you or not. This is the time when you can make a move and ask her or rather suggest her to come along with you, just invite her along casually.
She has vested her trust on you, do not make her regret, in case you find any other guy staring at her and she is not comfortable, taking her out of that place and react in such a way which is prudent, remember such small gestures of yours may leave an imprint on her mind, which will make her respect you all the more.
If you Like Us then Share Us As Well

You May Also Like to Check These Posts: