Step by Step Guide on How to Build a Better Blog!
Well, many of my friends are not aware about the actual purpose of creating a blog or owning one blog. For them having a blog is actually a waste of time.
This post will be a piece of shit for those types of people for whom a blog does not have much importance. Those who already runs a successful blog will also not show much interest in reading this piece of article, as they are much aware of all these tips.
So basically this post is for the types of people who actually want to create a blog for themselves. I am sure that this post will surely help you to not only creating a blog, but also to maintain the same. Creating a blog is not that difficult, the most important aspect of a blog is to run it properly.
I am glad that though I am having a few blogs, but due to the lack of time I can not be able to maintain many of them. The only two blogs on which I use to give more time are I News India, and the Latest Technology Blog.
"BTW read ur blog. quite interesting & well managed. how do u get so much time to write so often?"
Here is something which one of my close friends complemented a few days back on twitter (my twitter account is https://twitter.com/vatsalok) This is the same thing which many of my online as well as offline friends too ask me often. This blog post is actually written for the help of those friends only.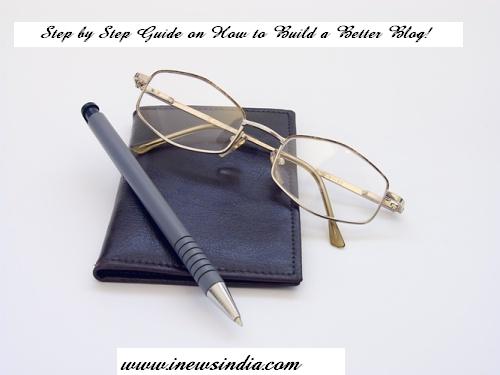 Here are the step by step guide on how to build a better blog:
Chose a Topic Wisely
Frankly before starting a blog we should decide the topic on which we would like to start it. This will be your niche, a field for which you have the experience and you can share something important or new to your readers. As we all know that content is the king, so if you won't be able to write good content on the topics which you have chosen for your blog then no one is going to like your blog.
After spending four years on blogging, now I am happy that I can be able to write some articles which are going to be liked by a few people. So my advice to anyone who is actually planning to start a blog, is to select the niche in advance so that it can help you to fix goals for your blog.
Think about a Domain Name
Whenever we talk about a blog, people normally think about creating a free blog which will be either hosted on wordpress.com or created with the help of blogger.com. Both of them are undoubtedly a great platform, which is free and provide many benefits to the users, but if you ask me then owning a blog with the domain name like yourblog.wordpress.com or yourblog.blogspot.com is actually not good.
Why? You may ask this to me. Many people argues that why to invest some amount on purchasing a domain name and web hosting for creating a blog, while you can get the same for free too with the help of wordpress.com or blogger. Frankly speaking, having a blog on wordpress.com or blogger will display that you are not much serious about creating or running a blog and thus you preferred the free domains.
For long run, you must own a domain name for your blog. If you really want to create a huge list of fan followers, better branding, and search engine love then you must go for a domain name of your own choice. It will look more professional too.
While you want to start a blog, then my suggestion would be to chose a meaningful domain name, which shall include some keywords, especially on those on which you are good experience to write some useful articles. You should focus a domain name with your selected niche too. Thus it will be good for your blog, as Search Engines will then love your blog quickly. Many people has many views about opting the particular domain name extension, but my views as far as choosing the domain name is concerned, is that it should have some keywords in it, that's all. You should not worry about the extension of the domain name.
Opting for a Web Hosting
The success of every professional blog depends on the web hosting on which the blog is hosted on. Frankly I have seen a tendency in many people that they don't want to spend much on hosting, while this is the backbone of the blogging. You should understand that if you had a blog then it should be hosted on some truly professional web hosting provider, so that it can remain live for most of the time.
If you ask me then my suggestion would be either hosting the blog with Hostgator (my favorite one) or Bluehost. These are the top two web hosting companies.
Chose the Blogging Platform Wisely
Just planning to start a blog, and then booking a domain name and web hosting is not enough, you also need a blogging platform too with the help of which you can be able to run your blog. Although there are many blogging platforms available through out the world of web, but my favorite one is the wordpress. This is the most simplest and the most powerful blogging platform. You can simply visit to wordpress.org and download the latest version to install the same on your own blog.
Those who are already running their wordpress.com blog and would like to go for a self hosted wordpress blog can also read this article written by me: How to Migrate From Your WordPress.Com Blog to Your Own Server!
Think Differently
If you really want to do blogging and leave a mark in the crowd of thousands, you should require to think differently. You must need a different look for your blog, then you must need some catchy articles on it. Please remember that Search Engines like Google always likes the useful and informative articles. Thus first thing which I will suggest you is to write a few long and quite informative articles, specially related to the niche which you have selected, and publish them on your blog.
One your blog has a few articles then opt for a professional looking theme, which will provide an unique look to your blog. Remember that an unique look is always better.
Contents like how to and top tips etc. are always liked by people and search engines. So while writing the content for your blog you can opt for these types of catchy topics so that your blog can get the much needed attention at the beginning only.
Chose Plugins Wisely
Plugins are the most important features of WordPress blog. I really like WordPress, just because I can get some plugins for whatever feature I want to include on my blog. Some of the most basic plugins which I prefer for my blogs includes Antispam Bee, Dagon Design Sitemap Generator, Greg's High Performance SEO, W3 Total Cache, WP Page Numbers, etc.
Whenever you are planning to create a blog for yourself, you should consider a factor which is known as Search Engine Optimization, commonly known as SEO. This is something which will help you to get the love from the search engines. The above mentioned plugins will help you to get the same. Although you must need some other skills to popularize your blog, but if you go by my suggestions then creating useful and unique content with some basic plugins are good enough for the beginning.
Chose Permalinks Wisely
By default when you created a blog, it will have the default page structure which will look like yourblogname/?p=some_number. This should be changed, and you can do this by changing the permalink of the blog. You can opt the same by visiting the settings option of your wordpress admin panel.
Chose a Tag
By default, all the wordpress blogs will have the tag line of Just another wordpress blog, and you should not allow it to ruin the look of your blog. Always create a tag for your blog and change the same from your wordpress admin panel.
Related Posts Plugin or Links
This tips will take place when your blog have some posts. You should always go either for a plugin like Yet Another Related Posts, so that it can display the related posts to each of your post, or you can manually give links to some related posts at the end of each article. In my views doing it manually is not that much easier.
Internal Linking
Instead of manually linking to related posts, what I will suggest you is to link to your old posts from new posts is always good. Why I am saying this is because I found many of the people will actually simply copy and paste your articles on their own blog without giving the credit to your blog. Thus if you had given some internal links in your post, they will at least keep the same in their own post too. Thus you will get some SEO benefits too.
Although these are only the beginning, but I guess to create a blog these are enough. In coming days I will again write some articles on tips which will help you to run your blog properly. Meanwhile you can also go for some other blogging tips written by me, or you can also comment your views and suggestions over here.
If you Like Us then Share Us As Well

You May Also Like to Check These Posts:
Tags:
Alok Vats
,
Alok Vats on Twitter
,
Antispam Bee
,
Blog
,
Blog Building
,
Blogger
,
Blogging
,
Blogging Goals
,
Blogging Platform
,
Blogging Tips
,
Blogspot
,
Bluehost
,
Content
,
Dagon Design Sitemap Generator
,
Domain Name
,
Free Domains
,
Good Content
,
Google
,
Hostgator
,
How to Build a Better Blog
,
How to Build a Blog
,
Interlink
,
Internal Linking
,
Links
,
Niche
,
Permalinks
,
Plugins
,
Related Post
,
Search Engine Optimization
,
Search Engines
,
SEO
,
SEO Benefits
,
Tag
,
Topic
,
W3 Total Cache
,
Web Hosting
,
Wordpress
,
Wordpress Admin Panel
,
Wordpress Plugins
,
Wordpress.com
,
Wordpress.org
,
WP Page Numbers
,
Yet Another Related Posts
About The Author
Hi friends, my name is Alok Vats, and I am the owner of this website I News India. From last six years I am trying to build this website, I started this website from scratch and then with the help of my friends like Pooja, Prachi, and Divya I published many articles over here. Recently Harshita, Tanmay and Aayushi too joined my website, and am really glad to share some articles written by them over here. I am sure many of you would love the same. These days I am managing the site with myself only and the focus is to share blogs on the topics like Blogging Tips, Self Improvement, SEO, and all other things which can make you to enhance your life.